Turn Me On, Dammit!
(2012)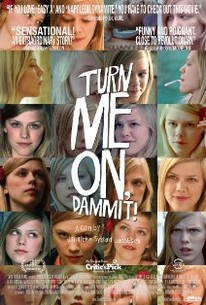 Turn Me On, Dammit! Photos
Movie Info
15-year-old Alma (Helene Bergsholm) is consumed by her out-of-control hormones and fantasies that range from sweetly romantic images of Artur, the boyfriend she yearns for, to down-and-dirty daydreams about practically everybody she lays eyes on. Alma and her best friend Sara live in an insufferably boring little town in the hinterlands of Norway called Skoddeheimen, a place they loathe so much that every time their school bus passes the sign that names it, they routinely flip it off. After Alma has a stimulating yet awkward encounter with Artur, she makes the mistake of telling her incredulous friends, who ostracize her at school, until Sara can't even be seen with her. At home, Alma's single mother is overwhelmed and embarrassed by her daughter's extravagant phone sex bills and wears earplugs to muffle Alma's round-the-clock acts of self-gratification.
People Who Like this movie also like
News & Interviews for Turn Me On, Dammit!
Critic Reviews for Turn Me On, Dammit!
Audience Reviews for Turn Me On, Dammit!
Loved it. Just something about it is sweet, more than you would think from the subject matter. If it was american, would be as crude as all hell, but it just works. Cast are great.
Nicki Marie
Super Reviewer
cute film, puts a smile on my face XD
Veronique Kwak
Super Reviewer
"Turn Me on, Dammit!" starts with 15-year old Alma(Helene Bergsholm) masturbating furiously to a telephone sex line. Luckily, she is able to compose herself before her mother(Henriette Steenstrup) returns home, even with the family dog needing psychological help to get certain images out of its head. Otherwise, Alma hangs out and drinks in the small Norwegian town where she lives with her friends Ingrid(Beate Stofring), who is hooked on lip gloss, and Sara(Malin Bjorhovde), who wants to work to eliminate the death penalty in Texas. And then there is the local dance where Alma encounters Artur(Matias Myren) who she pines for. That it does not go according to plan is an understatement, as Alma's troubles are only beginning when it gets out what does happen. Aside from a great title, "Turn Me On, Dammit!" is a charming and winning movie that handles the sensitive topic of teen sexuality with humor and grace. The movie also pulls off the trickiness of Alma's fantasy life(not always heterosexual by the way), without thankfully trying to pull the rug out from the viewer. Of special notice is the film's maturity in subtly pointing out that it is okay for teens to think about sex, but please be patient when acting out on those desires with adulthood just around the corner. However, there is no age limit for saving the world, as Sara is proving with her cause. Even as the movie gets details of the downside of small town existence right, there is also enough beautiful scenery on hand that it could be inferred that Alma and her friends might be taking it all for granted.
Turn Me On, Dammit! Quotes
There are no approved quotes yet for this movie.