Turning
(1992)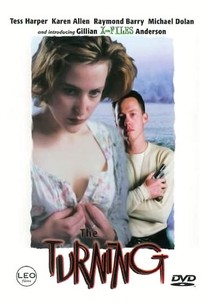 AUDIENCE SCORE
Critic Consensus: No consensus yet.
Movie Info
In this drama, Clifford (Michael Dolan) comes back to his hometown of Pocahontas, Virginia after an absense of four years, hoping to reunite with his family and resolve the issues of his unhappy childhood. However, Clifford has arrived just in time to witness the last stages of his parents' divorce; his mother has developed a drinking problem while father has started seeing someone else. However, Clifford isn't going to allow his family to break up, and tries to use force and intimidation to bring his folks back together, as he learned in his years with a neo-Nazi group. The Turning gained a certain infamy years after its release for a brief nude scene in which Clifford makes love to his ex-girlfriend; the partially undraped actress in question was Gillian Anderson, a year before she made her debut on The X Files.
Critic Reviews for Turning
There are no critic reviews yet for Turning. Keep checking Rotten Tomatoes for updates!
Audience Reviews for Turning
The Turning (L. A. Puopolo, 1992) [originally posted 6Nov2000] If you've actually made the effort to seek out this film, you did so for one reason and one reason only. And nothing I can say will sway you from renting it. But I'll try anyway. This film, the acting debut of Gillian Anderson, is well-known among connoisseurs as containing Ms. Anderson's only semi-nude scene. Hate to spoil your fun, but the stills you've seen online are digitally-enhanced. And everything you've heard about how awful the movie is, aside from the thirty seconds or so in question, is completely true. Clifford Harnish, a white separatist Marine (Michael Dolan, a character actor who often plays military types, most recently in TNT's original film The Hunley), comes home after spending four years away. His girlfriend (Anderson) is working as a waitress for her father (who never liked Clifford in the first place, and likes him less so now), his parents (Raymond Barry, who plays Senator Matheson in The X-Files, and Tess Harper, who has a penchant for playing "leading man's wife" in various films) have broken up, and dad is dating the local chanteuse, Glory Lawson (Karen Allen). Everything is predictable; everything is glacial; everyone manages to turn in the worst roles of their careers (and everyone except Anderson had already turned in pretty long careers by this time). Please, for god's sake, avoid this film like the plague. By far the worst thing I've seen this year. (zero stars, of course)
Robert Beveridge
½
What a nasty and depressing little film. There is not very much pleasant about it. Slow moving. However, it is rather well acted. Michael Dolan is irritating. It can be difficult to watch. A faster pace would have been helpful.
James Higgins
Turning Quotes
There are no approved quotes yet for this movie.
Discussion Forum
Discuss Turning on our Movie forum!