Laughing gor chi bin chit (Turning Point)
(2009)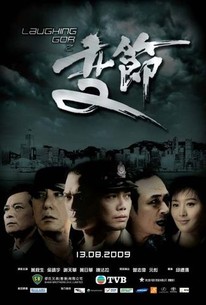 AUDIENCE SCORE
Critic Consensus: No consensus yet.
Movie Info
A triad gangster wrestles with conflicting loyalties after being selected by his boss to become a mole within the police force, then being recruited by the Head of District Anti-Triad Squad to go undercover and infiltrate the underworld. Anthony Wong and Michael Tse star.
Critic Reviews for Laughing gor chi bin chit (Turning Point)
There are no critic reviews yet for Laughing gor chi bin chit (Turning Point). Keep checking Rotten Tomatoes for updates!
Audience Reviews for Laughing gor chi bin chit (Turning Point)
This Hong Kong drama can be easily related to Infernal Affairs (2002) where Michael Tse's role of Laughing Gor is a reprise of Yan by Tony Leung Chiu Wai. I found out this film is a prequel to the Hong Kong's TVB drama. The movie focuses on how Laughing made his escape, and try to avoid the killing from the secret society after the opening scene. The process is short, thus it is back by various flashbacks on the past, such as how Laughing ends up a gangster, Brother Yat's past with the police force, and Laughing's love life with Karen (Fala Chen), the younger sister of Zatoi (Francis Ng). An overdoing of flashbacks has kill the joy of watching the movie, which leads to plenty of confusion. However, with his progressively silly wardrobe changes, Anthony Wong appears to be slumming, and his character's abrupt change in the third act doesn't help matters either. Instead, it's Francis Ng who ends up giving the best performance. Ng's Zatoi will probably end up being a more memorable character than Laughing himself thanks to a well-written twist and a consistently solid performance throughout. On the other hand, without the charm he showed on television, Michael Tse simply spends the film running and acting tough, which doesn't make for a very interesting character.
Dean McKenna
Super Reviewer
It's not everyday that a character in a television series got so well liked by the general public, that a movie gets created for that character in order to allow fans one last hurrah, and dwell a little bit more on the background of the character. The story here is nothing new, and the list of films to cite about undercover cops can go up to many miles long. What's interesting here is that the bad guys are fully aware of Laughing's status, and that No. 1 himself had been an ex-cop turned undercover, by the same superior. The themes of trust, paranoia and betrayal go full steam ahead since nobody trusts anyone else, and even your most trusted man can betray you just to get ahead, or are listening to orders from the top. And this sense of distrust permeates throughout the film, until it got a tad ridiculous with moles planted on opposite sides of the law, and on the same side, and with undercover cops so easily revealing themselves to their own uniformed folks, it soon became a strange little comedy, where everyone could be working for someone else, capable of switching loyalties at a whim. What made it worse was the narrative trying its best to confuse rather than hold you in suspense, with flash forwards and flashbacks taking their toil. The most powerful scenes and subplot that could be expanded here, involved choice to do the right thing given the circumstances presented, and of course for the greater good. There were two characters who are in stark contrasts with each other, each being in the same boat, but ultimately taking different paths in their lives, with different consequences.
Steven Vincent Gee
Super Reviewer
½
Turning Point is Herman Yau's attempt at a Hong Kong crime drama. It also serves as a prequel to the Laughing Gor character in the television series EU.
While not entirely confusing, the story comes across as messy. There are a lot of lengthy flashbacks to help explain a variety of situations, but all the back and forth switching disrupts the flow of the film. The run time itself doesn't even reach 90 minutes; however this picture feels much longer. The pacing is moderate and there isn't much going on to raise the interest level in the film.
A few triad beatings, a car chase, and a mediocre shooting sequence round up the action, which leaves the film really uneventful. This is a true shame.
Michael Tse is considered the lead actor of the film, but he is not the star. Anthony Wong, although weird looking with his mo-hawkish hairdo, and Francis Ng steal Tse's spotlight. This isn't surprising, since both Wong and Ng are no strangers to these types of films.
In the end, Turning Point isn't bad a movie; it just isn't special in any way. There is no rush to see this.
Laughing gor chi bin chit (Turning Point) Quotes
There are no approved quotes yet for this movie.
Discussion Forum
Discuss Laughing gor chi bin chit (Turning Point) on our Movie forum!