Tuya's Marriage
(2006)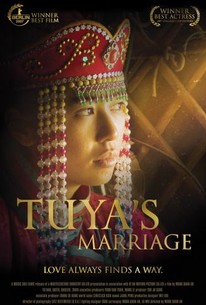 Movie Info
A reserved Mongolian bride diagnosed with a debilitating back injury enters into an unusual agreement with her disabled husband in Lunar Eclipse director Wang Quan'an's Golden Berlin Bear-winning entry into the 2006 Berlin International Film Festival. Peasant Tuya (Yu Nan) is a happily married mother of two whose husband Bater is permanently disabled. One day, after hard-working Tuya collapses in the fields while straining to perform her rigorous duties, the local doctor diagnoses her with a lumbar dislocation. Subsequently unable to care for her invalid husband, Tuya and Bater agree to divorce so that the ailing woman can wed a husband capable of caring for both of them. Though several suitors throw their hat into the ring upon hearing that Tuya is available, each is immediately put off upon learning that Bater is part of the deal as well. The only man who seems willing to consider caring for both is divorced oil tycoon Baolier, who, as a smitten young schoolboy, was once good friends with the kindly Tuya. When a sudden tragedy strikes, threatening Bater's life, however, Baolier's true intentions open the door for Tuya's cuckolded neighbor Sen'ge to step in and save the day. At first simply thankful for the benevolent intervention of the shy but likable Sen'ge, Tuya slowly begins to realize just how deep the lovelorn Sen'ge's feelings for her truly run.
Critic Reviews for Tuya's Marriage
Audience Reviews for Tuya's Marriage
A quiet film that's a portrait about one woman's resilience while struggling to survive in the stark living conditions of rural Mongolia that force her to make decisions that are against her cultural moral grain. I haven't seen that many films about Mongolian culture, so this film was a revelation in itself from that standpoint. It was odd to me that they were speaking in Mandarin and the accent is different than I'm used to. Perhaps because this was made by Beijing based filmmakers and thus poised to debut for an international audience? I'm glad to hear that this won top honors at the Berlin festival. This actress is truly gifted, who looks alot like Gong Li, as she can convey strength, frustration, humility, love, loyalty, etc all in her stance and countenance.
Ching Tan
½
An interesting movie that centralizes around the life of a hard-working woman who struggles to uphold her home as well as her family.
½
The quiet passion of this movie made my heart ache. The stark countryside of Mongolia was like another character in the film. Beautiful performances.
Jamilah Suarez
Tuya's Marriage Quotes
There are no approved quotes yet for this movie.
Discussion Forum
Discuss Tuya's Marriage on our Movie forum!