TV Junkie
(2013)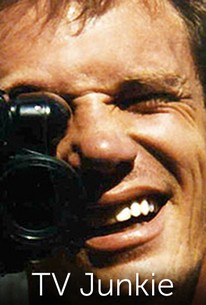 Movie Info
In this documentary that focuses on the private life of a very public media figure, filmmakers Michael Cain and Matt Radeki wade through more than 3,000 of former Inside Edition correspondent Rick Kirkham's personal video footage to tell the harrowing tale of a life spiraling out of control. Ever since receiving his very first video camera at the age of fourteen, Kirkham has used the lens as everything from a private confessional to a personal confidant, obsessively capturing every emotion and constantly laying his soul bare as the tape rolled. From his early break as an American Bandstand dancer to turn as a local TV news reporter and eventual rise to national correspondent for Inside Edition, Kirkham always had a fresh tape and something to say. As Kirkham and his girlfriend discover that she has become pregnant and quickly begin making marriage plans, the troubled persona that emerges in front of his own camera lens stands in stark contrast to the carefree public face put forward for the Inside Edition broadcasts. ~ Jason Buchanan, Rovi
Rating:
NR
Genre:
,
Directed By:
Written By:
In Theaters:
Runtime:
Studio:
The Sundance Institute
News & Interviews for TV Junkie
Critic Reviews for TV Junkie
Audience Reviews for TV Junkie
½
This movie was a brutally raw depiction of the perils of drug and alcohol addiction. It certainly has that going for it if it has nothing else. There was a mesmerizing quality about watching this reality television-esque descent into madness. You are sort of held in place by this uneasy certainty that death is virtually right around the corner for Kirkham the whole time. As you go on this journey with Kirkham it might dawn on you that he is one of the more unlikable characters you've encountered in a biographical documentary. I gotta admit it was a little hard to root for him. Here is where my problems with this film begins. It isn't so much the nasty reality of his addiction or his virtually overflowing well of victimhood that makes him so hard to watch. You expect these things from an addict. It is the fact that you never at any time get the sense that you're watching a real human being. That is also expected for an addict. But the camera itself is where the rub lies. It seems that one of the deeper stories in this film is the elephant in the room that the movie never touches. That's the story of this man's insatiable and somewhat narcissistic appetite for filming HIMSELF. While it is both ugly and fascinating to watch on some level you almost have to suspend disbelief to really buy the premise here which is that you are watching and listening to a real person instead of watching a persona reporting about a real person. The more I watched and listened the more I began to believe that this man was a TV junkie not just for his constant need to film, but for his constant need to be the guy ON TV. In fact it all started to seem like this was just another Inside Edition adventure piece for Kirkham. His greatest adventure yet- The one where he train wrecks his life and reports about it in real time. At times I found myself wondering which addiction was more psychologically deadly- The camera or the crack? It seems that Kirkham was not only pushing a button on that camera, but also pushing a magic button that turned him in to reporter Rick Kirkham doing the story of his life, instead of just being Rick Kirkham living his life while being filmed. That's the difference in this movie and a show like A&E's Intervention for instance. This is not a show about a guy with an addiction. This is a guy (a REPORTER) with a crack addiction making a TV show about his life. He's the crack reporter on the scene (pun intended) chronicling every harrowing incident in riveting detail no matter how horrible it might make him appear. And why is that? The film's end explanation for that "why" requires a suspension of disbelief that I simply don't have. I won't spoil it for you, but I'm not convinced that I am being told the truth. If this film's ending scenes are to be believed I'm not convinced that Rick Kirkham is telling himself the truth yet either. I do hope he's pushing the record button a lot less these days because this is a documentary with a sequel that no one would want to see.
John Doe
½
Starts off interesting - then heads into harrowing. Seriously, I thought this guy was going to end up dead by the end of it. Very brave of him to tell a story that puts him in such an unflattering light to help others avoid drug addiction. I felt so sorry for everyone in this - everything his wife and kids went through, and for him himself, as obviously a lot of it was the drugs talking. Really good documentary, but not always easy watching.
Nicki Marie
Super Reviewer
TV Junkie Quotes
There are no approved quotes yet for this movie.