Twice Dead
(1988)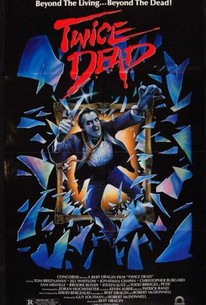 AUDIENCE SCORE
Critic Consensus: No consensus yet.
Movie Info
The Cates family inherits a run-down house in this tepid teen horror feature. The mansion known as the Tyler place is in an area under the control of a gang of punks. The house is supposedly haunted by the ghost of a dead actor who helps the family battle the thugs for control of the property. Jonathan Chapin plays a double role as the gangleader Crip and the ghost Tyler in this lifeless feature.
Critic Reviews for Twice Dead
There are no critic reviews yet for Twice Dead. Keep checking Rotten Tomatoes for updates!
Audience Reviews for Twice Dead
½
Decent haunted house film, but could have been much better. Where the film fails is because it lacks anything truly scary, and is more tongue in cheek for most of its run time. The films biggest problem is that it doesn't know what it wants to be. The films plot is all over the place, and it uses all the usual clichés established by previous superior horror films. Twice Dead is mindless fun, but it leaves you wanting more out of the film. The film has some slasher elements thrown in with the supernatural and it doesn't quite succeed. I thought this was a decent film, but it lacked anything truly memorable to make it worth seeing. This film is worth watching only once, and doesn't necessitate multiple viewings. If you're looking for a great haunted house film, you'll be disappointed. Overall a decent film, but the script is so paper thin that it really doesn't do anything truly interesting with its ideas. Director Bert L. Dragin can\'t seem to direct a consistent film where there's some genuine chills on-screen. I liked the film, but felt it could have been much better. As a haunted house film, this one is quite forgettable and doesn't really stand out among others in the genre. The film had potential, but most of the time it ended up falling flat. A decent little tongue in cheek film and nothing more.
Twice Dead came in a Roger Corman DVD 2 pack that I recently received, but it turns out to be the least of the two films... so much for going out with a bang. This was just an odd movie all around, and not in an interesting way. The film spends most of its time being a typical 80's movie where teenagers are terrorized by a... biker gang? Yeah, so anyway, they fight back, but suddenly receive aid from the ghost of a dead actor who's former house they just moved into. And, is it just me, or was the relationship between the brother and sister strange? It seems almost incestual, without anything actually going on. They care just a wee bit too much for each other, and it sticks out. There are a couple of creepy moments and very little in the gore department, but the story is just flat out boring and uninteresting, as is most of the film itself. On the positive side, it does have Brooke Bundy in it. I suppose that has to count for something, right?
Tim Salmons
Super Reviewer
Twice Dead Quotes
There are no approved quotes yet for this movie.
Discussion Forum
Discuss Twice Dead on our Movie forum!