Twilight People
(1972)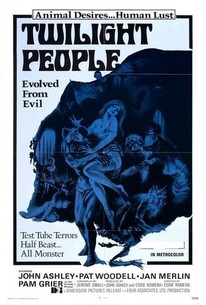 AUDIENCE SCORE
Critic Consensus: No consensus yet.
Movie Info
Dashing adventurer Matt Farrell (John Ashley) is captured and taken to a remote island in the South Pacific, where he is meant to become the newest victim of Dr. Gordon (Charles Macaulay), a mad scientist who is crossing humans and animals in an attempt to create a race of "superbeings." The doctor's daughter, Neva (Patricia Woodell), is assisting in the nefarious experiments, though she has begun to doubt the legitimacy of her father's scientific work. Gordon's main henchman, Steinman (Jan Merlin), would like nothing more for Farrell to escape, as he views the handsome captive as a worthy adversary and longs to track him through the jungle as human prey. When Neva falls in love with Farrell, she betrays her father and frees him, fleeing with a group of Gordon's experiments, bestial homo sapiens who have been crossed with bats, panthers, antelopes, and other animals. Meanwhile, Farrell captures the doctor and makes his way through the jungle to meet up with Neva on the island's dock, where they intend to make their way to freedom.
Rating:
PG
Genre:
Directed By:
Written By:
In Theaters:
On DVD:
Runtime:
Studio:
Dimension Films
Critic Reviews for Twilight People
All Critics (2) | Fresh (0) | Rotten (2) | DVD (1)
Bless the folks at VCI Home Video who still know how to have a good time. The Twilight People is about as awkward and incompetent a monster movie as one could imagine.


Audience Reviews for Twilight People
[img]http://img34.photobucket.com/albums/v104/iriz03/twilight_people.jpg[/img] [color=white]Directed by Eddie Romero[/color] With John Ashley, Pat Woodell, and Pam Grier as the Panther Woman. [color=cyan][u]MPAA[/u][/color]:PG(violence) I didn't even know I had this movie, so with nothing else to do, I decided to watch it. I knew what to expect and I knew that I was about to see a bad monster movie and I was right. The film is about a scuba-diver (Matt Farrell)who is kidnapped while he's underwater and brought on shore to Dr. Gordon's lab in where people are turned into monsters.-_-. The scuba diver falls in love with the scientist's daughter (Neva) and together they free the monsters and try to escape the island. I really don't understand people that like to watch bad horror movies for fun. I guess they call these films "B-Movies". It's a pretty boring movie with bad makeup (the blood looks like paint), costumes, acting, but the most excruciating part was the sound effects. Your ears will start hurting after hearing the annoying roars and growls of the monsters especially the panther woman. Besides the panther woman we also have an antelope man, a wolf woman, a batman and an ape-man. They could've at least had a decent ending because I didn't quite understand if the movie was about the scuba-diver and the scientist's daughter struggle to get out of the island or the monsters revenge on the scientist. Pretty stupid ending because it ends when the scientist dies and the bat man escapes for freedom and then the credits roll. What about our two heroes?!! The rest of the monsters die of ridiculous reasons. The panther woman and the wolf lady have a cat fight, the ape man wants to rape Neva so she kills him, and the antelope man gets killed by one of the guards. So stupid, [i]Twilight People[/i] is only for people that enjoy watching bad monster movies and I'm definitely not one of them. [size=4][color=dimgray]2/10[/color][/size]
alex Irizar
Twilight People Quotes
There are no approved quotes yet for this movie.