Twin Warriors (Tai ji zhang san feng) (The Tai-Chi Master)
(1984)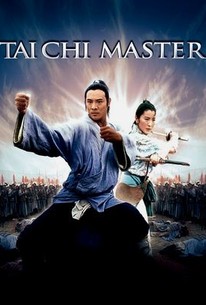 Movie Info
Hong Kong star Jet Li portrays the inventor of T'ai Chi in this entertaining if not historically accurate martial-arts movie. Junbao (Li) and Tienbao (Chin Siu-Ho) are a pair of young monks studying kung fu in a Shaolin temple. Junbao is balanced and humble, but Tienbao is competitive and eager to advance. The two are wrongfully accused of cheating during a tournament and are expelled. From there they take radically different paths. Tienbao becomes a mercenary for an evil warlord, and Junbao joins a rebel group led by Michelle Yeoh. Tienbao betrays Junbao; Junbao loses his memory in the resulting fight. While recuperating, he develops the graceful T'ai Chi fighting style. Although many may find the cartoonish, acrobatic fight sequences to be campy, they are elaborate and dazzling. ~ Jonathan E. Laxamana, Rovi
News & Interviews for Twin Warriors (Tai ji zhang san feng) (The Tai-Chi Master)
Critic Reviews for Twin Warriors (Tai ji zhang san feng) (The Tai-Chi Master)
Audience Reviews for Twin Warriors (Tai ji zhang san feng) (The Tai-Chi Master)
[img]http://images.rottentomatoes.com/images/user/icons/icon14.gif[/img]
Directors Cat
Super Reviewer
Two childhood friends are expelled from their Shaolin monastery and find themselves on opposite sides of a conflict between freedom fighting rebels and the tyrant who is pursuing them. With Woo-ping Yuen in the director's chair and Jet Li and Michelle Yeoh as its stars, you'd expect a feast of martial arts mayhem from Tai Chi Master. You'd be damn right. Some of the frenetic action sequences are truly eye boggling (the amazing staff fights in particular, which were revisited by Yuen when he served as action director for The Matrix Trilogy) and the supporting cast including Siu-hou Chin and Fennie Yuen more than hold their own with the stars. There is also some nice Jackie Chan style humour in the opening scenes that has some genuine warmth and it thankfully avoids the kind of overwrought melodrama and sentimentality that can mar this type of film. It's a shame that the story loses its way during the forced slapstick and silliness of Li's mental breakdown towards the end as it stalls the pacing quite badly, but it soon gets back on track for a suitably spectacular final showdown. Maybe not a world changer and it lacks the artistry of the likes of Crouching Tiger, but it's certainly worth the time for the astonishing combat scenes alone.
½
Great action sequences from Yuen Woo Ping, the story jumps here and there but who cares. One of the bad guys uses people as human projectiles. That's very much ok in my book.
Tsubaki Sanjuro
Super Reviewer
Twin Warriors (Tai ji zhang san feng) (The Tai-Chi Master) Quotes
There are no approved quotes yet for this movie.