Two Bits
(1995)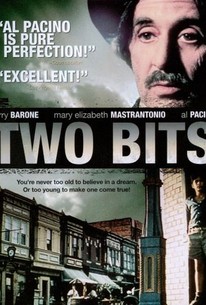 Two Bits Videos
Two Bits Photos
Movie Info
This nostalgic drama is based upon the childhood memories of screenwriter Joseph Stefano. Set in South Philadelphia in 1933 it centers on both a wise grandfather, and his single-minded grandson. The film opens in a garden on a beautiful day. In the garden is the Italian grandpa telling anyone who will listen that this is his final day of life. No one really believes that, especially not 12-year-old Gennaro who is more interested in finding a quarter so he can go to the grand opening of the brand new La Paloma theater. The grandfather promises the boy that he will receive the money after he dies. The child doesn't believe this and so begins his own search for two bits. Along the way he has many adventures. Towards the end, the grandfather asks the boy to deliver a message to a woman he wronged many years before. He wants her forgiveness before he dies. In the end, Gennaro learns a valuable lesson about life.
Rating:
PG-13
Genre:
,
Directed By:
Written By:
In Theaters:
On DVD:
Runtime:
Studio:
MVD Music Video
Cast
Critic Reviews for Two Bits
Audience Reviews for Two Bits
I suffered enough without dying. Maybe I'll die without suffering. This is the tale of a widowed mom, her 12 year old son, and her father in South Philadelphia on a hot summer day. The boy has dreams of going to the new movie theatre in town. He needs a quarter and his grandfather has said that he will leave the boy a quarter when he dies. For two weeks the grandfather has told him this is the day, but it has never been the day. Today the boy will learn a life's worth of lessons. "Your belly needs your heart wants." James Foley, director of House of Cards (12 episodes), Wayward Pines (1 episode), and the movies Glenngary Glen Ross, Who's that Girl, Fear, and Perfect Stranger, delivers Two Bits. The storyline for this was clever and fun to watch unfold. The settings and characters were unique and the cast delivers solid performances and includes Al Pacino, Mary Elizabeth Mastrantonio, and Jerry Barone. "I picked up a lot of habits from him. Only the bad ones my mother used to say." I came across this on Netflix and immediately added it to the queue. I finally got around to watching it and I was really surprised by how much I like this. The grandson and grandfather relationship was perfect and I thoroughly enjoyed the settings and era. This is worth a viewing. "She's gonna look like a potato because we can't afford false teeth this year." Grade: B
Kevin Robbins
Where to begin. OK first off this film sucks. there is so much wrong with this movie its unbelievable. Pacino is one of Hollywoods greatest wonders in the field of acting. I just wish he could have brought some of that into this film. The film is about this little kid Gennaro (an overbearing Jerry Barone), during the years in the great depression. This kid dreams of going to the new movie theatre that had just opened in his town of South Philadelphia. He deals with his depressed mother, An annoying Mary Elizabeth Mastrantonio, and his dying grandfather. The kid is a little brat who needs two bits to see a movie as much as he needs a ass-whipping. Always asking his grandfather when he is going to die and asking his mother why they never have any money, and when grandpa is going to keel over so he can get the rest of his money. Watching this film I got more and more pissed. Often make reasons for not switching the film off. I still don't know why the hell I didn't turn it off. Please spare yourself from the agony and don't see this film.
Aaron Jones
½
Although this movie gets off to a weak start and is fairly uneven throughout, it has enough heart and a strong enough plot that it won me over. Although subtly so, this is a relatively dark film that approaches the coming-of-age formula in a unique way. The acting is far from brilliant overall, but Pacino's supporting performance is the exception. His character portrait is so moving and vivid, I believe he deserved an Oscar nomination.
Discussion Forum
Discuss Two Bits on our Movie forum!
News & Features