2 Days in Paris
(2007)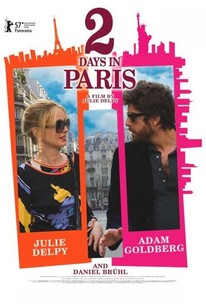 TOMATOMETER
AUDIENCE SCORE
Critic Consensus: Delpy proves not only to be an adept actress, but makes her mark as a writer and director in this thought-provoking comedy that breaks the romantic comedy mold.
Movie Info
Ingenue Julie Delpy does triple duty as writer, director, and star of this romantic comedy. French photographer Marion (Delpy) and American interior designer Jack (Adam Goldberg) are returning from a vacation in Venice. Despite the fact that it was supposed to be the ultimate romantic getaway, disagreements and misunderstandings seemed to drive them farther apart rather than bringing them closer together. Before they return to the United States, Marion and Jack have a quick two-day stop in Paris to visit Marion's parents and pick up the cat that they had been pet-setting for their daughter. Unfortunately for Jack, Paris proves to be quite a culture shock. Not only are Marion's parents a pair of eccentric former "revolutionaries" who make no qualms about having knock-down-drag-out arguments regardless of who's present, but they also appear to have a particular distaste for Americans. Add to this the fact that Marion's friends hold nothing back when it comes to discussing their sexual lives, seem fixated on food rituals, and that Marion seems to run into former lovers on every street corner, and Jack quickly begins to suspect that he doesn't know his girlfriend half as well as he thought he did when they were living the simple life back in New York. ~ Jason Buchanan, Rovi
News & Interviews for 2 Days in Paris
Critic Reviews for 2 Days in Paris
Audience Reviews for 2 Days in Paris
½
This delightful and funny look into an eccentric couple's relationship proves that Delpy can be as good a filmmaker as she is an actress, and my only complaint is an unnecessary narration in the end instead of a dialogue that is unfortunately not shown to us.
Carlos Magalhães
Super Reviewer
Not so entertaining, but was okay to watch.
A tour de force reminiscent of Woody Allen's bittersweet love stories. Julie Delpy's triple threat debut is witty, funny, and poignant in its portrayal of a doomed romance. The blend of languages is seamless and depicts little-known aspects of American to French culture clash. I love the family's boisterous fight in the courtyard over Anna accidentally fattening up Marion's cat, then Jack peering down, asking if anything is wrong, and Marion saying bemusedly, "No. Why?" Marion's altercation with the racist cabbie is also ballsy and hilarious, with Delpy miming Hitler's mustache and the sign for asshole while braying, "Welcome to France," to Jack's prudish embarrassment. In response to Flixster friend, Ryan Hibbett's critique of the film, I don't think Delpy is saying she hates France. She examines France's despicable qualities through an American lens, and vice versa, seeing as how she's almost an expat herself. The film pokes fun lovingly at idiosyncracies of both cultures (Jeannot's porny art and penchant for keying luxury cars vs. Jack's misanthropic treatment of his own countrymen for selfish reasons). Also, Marion may have had a lot of ex-boyfriends, but she is not an immoral slut-bag. For one, she tearfully declines the affair with Mathieu, and for two, Delpy would reclaim that epithet in the name of feminism, this specific brand of which has roots in Simone de Beauvoir's "Manifesto of the 343 Sluts" (a no-shame pro-choice tract signed by 343 famous French feminists including Delpy's own mother, which Marie Pillet even mentions in the film). The aforementioned taxi altercation is so layered in this respect. It marks the boorishness of the French male but also the shamed pacifism of the "polite, intellectual" American male, Jack, who sits and does nothing to defend himself or his girlfriend while she expresses her ardent distaste for racism (an admirable quality) in an inebriated, vulgar, verbal castration (a less admirable quality for some, but a rousing show of feminism for her.) Similar to the physical fracas in the cafe later, her morals behoove her to hate an ex who fucked little girls; her insatiable appetite for verbal castrations obviously behoove her to lose her temper. This little woman has a mouth on her, and she's not afraid to use it. She can be mean and annoying, but she owns it. She's not afraid to portray herself as the crazy French bitch.
Alice Shen
Super Reviewer
2 Days in Paris Quotes
| | |
| --- | --- |
| Marion: | I like you, I would like to be your friend when we break up. Whenever we break up. No, if we break up. I would like you even if we were not together. |