Two Drifters
(2006)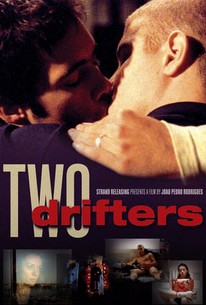 Movie Info
A heartbroken Portuguese man mourning the loss of his lover to a tragic car accident finds solace in the arms of a woman driven to insanity by her need to bear children in O Fantasma director João Pedro Rodrigues' psychologically mangled melodrama. It was the very day of Pedro (João Carreira) and Rui's (Nuno Gil) one-year anniversary that Pedro was sent careening through his shattered window only to die moments later in the arms of his devastated lover. But as fate would have it, Pedro isn't the only one who has pledged undying love to the recently departed. After rejecting her most recent boyfriend for his refusal to impregnate her, increasingly erratic wannabe mother Odete (Ana Cristina De Oliveira) brazenly crashes Pedro's funeral only to lets loose with the shocking claims she was both deeply in love with the unfortunate car-crash victim and that she is also the mother-to-be of the deceased man's unborn child. Later taken in by Pedro's mother after holding vigil at his graveside for many days and nights, Odete begins to experience a startling transformation as her child reaches term and Rui begins to see his deceased lover in the eyes of a woman whose singular goal in life is to give birth. ~ Jason Buchanan, Rovi
Rating:
NR
Genre:
,
Directed By:
Written By:
In Theaters:
On DVD:
Runtime:
Studio:
Strand Releasing
Critic Reviews for Two Drifters
Audience Reviews for Two Drifters
½
Almodovar could pull this off. Sadly, the only Pedro who plays a significant role in "Two Drifters" loses his life in the film's opening moments. There's a strong sense that the director wants desperately to play in the same league as Sirk, Fassbinder, Almodovar and even Todd Haynes. His work should be something I'd find hugely amusing, but it just never happened. There are a number of issues, but the most significant is the way that despite the outrageous behavior, Drifters does just that. It never reaches the emotional frenzy that it so desperately hopes to create. This is a film where the director intentionally disregards plot and just about everything else for the sake of creating the ultimate taboo shaking melodrama. He forgets that his idols were subtly subversive. Melodrama is most intriguing when it's based around subtext. Here everything is out in the open and there's just nothing beneath the surface.
Richard Stracke
½
[img]http://images.rottentomatoes.com/images/movie/gallery/1161997/photo_01.jpg[/img] This is one of the more bizarre stories I've ever seen put onto film. There are two converging stories here: first, Rui loses his boyfriend in a fatal car accident. Then, Teresa's boyfriend leaves her when she decides she wants to have children. The two drift (heh...) in different and similar directions, as both fall apart and come together in search of love, whether this love be practical, beautiful, or completely foolish. And while the web these characters spin at times feels like it's becoming something completely new and fascinating, it never gets to that point. Instead we are left with pathetic dialogue and long, awkward silences (but these didn't bother me as much). The film and script ultimately fail due to their own melodramatic tendencies and desire to be unique rather than merely letting the cards fall. [b]C-[/b]
Travis Hardy
[font=Century Gothic]In "Two Drifters", Odete(Ana Cristina De Oliveira) is a supermarket worker on rollerskates who desperately wants to have a baby with her security guard boyfriend, Alberto(Carloto Cotta). After he finds out she has gone off the pill without his knowledge, he angrily walks out of her life. So, Odete turns her attentions to another man, Pedro(Joao Carreira), who died recently in a car accident, just after he and his boyfriend, Rui(Nuno Gil), celebrated their first anniversary. And now Odete is claiming to be pregnant with Pedro's child...[/font] [font=Century Gothic][/font] [font=Century Gothic]"Two Drifters" is an unbelievable, unintentionally funny(I'll never listen to "Moon River" quite the same way again) movie about a thoroughly unlikable woman. The movie crosses the thin line from being provocative to ridiculous with gleeful abandon. There is a possibility that it could be considered to be about societal homophobia, but even that explanation does not allow for the late detour to beautiful downtown Polanskiville.[/font]
Two Drifters Quotes
There are no approved quotes yet for this movie.