Two Family House
(2000)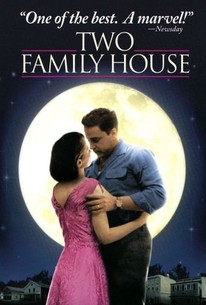 Movie Info
In 1956, factory worker and frustrated singer Buddy Visalo, who realizes his dream to buy a two family house in Staten Island for himself and his wife Estelle and convert the ground floor into a neighborhood bar where he can perform, encounters unexpected problems and romantic complications when attempting to evict tenants.
People Who Like this movie also like
Critic Reviews for Two Family House
Audience Reviews for Two Family House
A Staten Island tough buys a house that he wants to turn into a bar, but first he must contend with the Irish immigrant residents. This film begins slowly. For at least the first act and a good portion of the second act, Buddy is a cliche; he's a New Yorker with an assortment of meathead friends and a vocabulary that doesn't extend beyond what one might hear during fifth grade recess. He has the usual catalog of get-rich-quick schemes, and if you've seen Matt Dillon's character in Mr. Wonderful, you've heard all this before. But midway through the second act, it becomes clear that writer/director Raymond DeFelitta means to have Buddy stand in for the American Dream. The film's metaphors become clear: the racism against the Irish immigrant family, the racism against Mary's half-black child, the enormous financial hardship with which the families must contend are all facets of American history and the struggle of everyday American families. And by the end, the good people maintain peace and form a connection. It's sweet and maybe a little maudlin, but I think it works. The performance by Michael Rispoli snuck up on me, just as the complexities of Buddy's character; I thought he was fair, but he mined Buddy for depth by the end of the film. The same goes for Kelly McDonald. Overall, there is a lot to like about this film if you don't give up on it.
Jim Hunter
Super Reviewer
[font=Century Gothic]In "Two Family House," Buddy Visalo(Michael Rispoli, who is excellent) has a chance to audition for Arthur Godfrey but is dissuaded because of his impending marriage to Estelle(Kathrine Narducci). In the following eleven years, they live with her parents in Staten Island where he toils in a factory while none of his business ideas including limo driver, house painter and pizza delivery amount to much. In the spring of 1956, he decides to buy a fixer upper and live on the second floor, turning the first into a tavern. But there is a drunken reprobate and freeloader, Jim O'Neary(Kevin Conway), and his pregnant wife, Mary(Kelly Macdonald), living on the second floor and the law is on their side. But when Buddy and his friends try to forcibly evict the couple, Mary goes into labor. And boy is everybody surprised at the brown hue of the baby...[/font] [font=Century Gothic][/font] [font=Century Gothic]Mildly predictable, "Two Family House" is a movie about the American dream that is equal parts funny and touching. Buddy's dream is not so much to be successful but to work at something that is his very own. In other ways, the American dream should be about a country without bigotry which it was not in the 1950's, even in the North, which are portrayed here as an era of stifling conformity where there is little[/font] [font=Century Gothic]interaction outside of one's social circle. But there is a glimmer of hope that the era of sitting in judgment will be coming to an end.[/font]
Kelly MacDonald and Michael Rispoli are wonderful together in this. I'm not big on adultery, but this is a unique love story that I enjoy every time I see it. The soundtrack is great, too. The fact that it's a true story underscores the bitterseet quality of the film. This is a must-see for any MacDonald fan like me : )
Lanning : )
Super Reviewer
Two Family House Quotes
| | |
| --- | --- |
| Mary O'Neary: | We're all meant for something particular. This is what you're meant for. |
| | |
| --- | --- |
| Mary O'Neary: | It's Mrs. O'Neary,Mr.Vasallo.I wouldn't dream of calling you by your first name. |
| Mary O'Neary: | It's Mrs. O'Neary, Mr. Vasallo. I wouldn't dream of calling you by your first name. |
| Buddy Visalo: | Oh yeah well wher's Mr. O'Neary? |
| Buddy Visalo: | Oh yeah well where's Mr. O'Neary? |
Discussion Forum
Discuss Two Family House on our Movie forum!