Two Girls and a Sailor
(1944)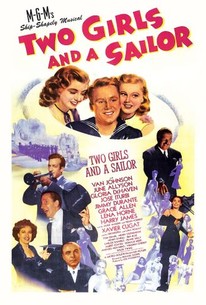 AUDIENCE SCORE
Critic Consensus: No consensus yet.
Two Girls and a Sailor Videos
Two Girls and a Sailor Photos
Movie Info
In this wartime musical, Gloria DeHaven and June Allyson play a couple of well-meaning sisters who stage their own USO shows in their apartment. They'd like to expand their show, so GI Van Johnson, who happens to be a millionaire, has an empty factory converted into a canteen.
Audience Reviews for Two Girls and a Sailor
MGM takes a standard wartime musical convention (putting on a show for the soldiers) and adds its customary dollop of gloss; June Allyson sings "Young Man with a Horn" with Harry James & His Orchestra, Lena Horne croons "Paper Doll" and Gracie Allen performs "Concerto for One Finger." Very entertaining.
Michael Troudt
½
Once upon a time, people went to the theater and didn't care too much when they arrived. An usher would guide them to empty seats with a flashlight...and they would just wait until the film started over again to catch the part they missed. Of course, they usually had newsreels, coming attractions and shorts to watch, along with a 2nd feature...but as soon as they recognized a scene they have already watched - they would just get up and leave. It's where the phrase: "This is where we came in..." came from. I mention that because TWO GIRLS AND A SAILOR has such a lightweight plot that you can view it at any point and not really miss too much. The film is more a showcase for some of the popular musical stars of the time that the plot seems more like window dressing. This is definitely a film to steer one's mind away from WWII, if only for a moment. It stars June Allyson, Gloria DeHaven and Van Johnson as the title characters. The young Van Johnson was a very popular heartthrob at the time (2nd only to Frank Sinatra) and would have been a big draw to the female crowd. June Allyson and Gloria DeHaven never looked more beautiful than they do in this...and would have been the draw to the male crowd. There are also a bevy of beauties in this that would have been very popular with the soldiers and sailor watching this: Lena Horne sings "Paper Doll". Virginia O'Brien (yum) sings "Take It Easy". Gloria DeHaven sings "My Mother Told Me" and June Allyson sings "The Young Man With A Horn" - referring to bandleader Harry James...which segues into a nifty jitterbug dance with a sad-faced soldier. A very young-looking Ava Gardner is easily recognizable as an extra (uncredited). Adding a latin flavor is bandleader Xavier Cugat and singer Lina Romay (who looks kinda like Salma Hayek, if ya ask me). Jimmy Durante plays a former vaudevillian and adds comic relief (here he performs his signature number "Inka Dinka Doo"...as does Gracie Allen doing a comedic "piece" on the piano. Scanning the credits in IMDb - I was surprised to see that Buster Keaton had a part in this too - but his scenes were cut...hmmmm. The film has the style and glitz of the MGM imprimatur but isn't as well remembered... serving more as a time capsule for the music and comedic style of the war years. 7
bernard anselmo
½
Surprisingly good musical, and considering I am not a big fan of musicals, nor June Allyson or Van Johnson, it is remarkable I liked it. Great supporting cast, some really great musical numbers. Very entertaining.
James Higgins
Two Girls and a Sailor Quotes
There are no approved quotes yet for this movie.
Discussion Forum
Discuss Two Girls and a Sailor on our Movie forum!