Two Moon Junction
(1988)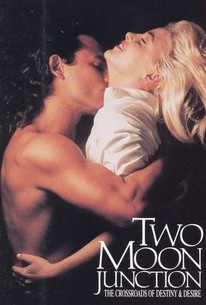 Movie Info
Zalman King wrote and directed this soft-core Harlequinesque Romance that plays like Tennessee Williams meets Fredericks of Hollywood. April Delongpre (Sherilyn Fenn) is the daughter of a powerful senator and heiress to an old and respectable Southern family. April is engaged to marry the granite-handsome Chad Douglas Fairchild (Martin Hewitt) within a few days. But Chad has gone to Tuscaloosa to sign papers for their condo and the rest of the family has headed off to the lake, leaving April in the house alone with nothing to do except take long and languid showers--until she sets her eyes on the pecs of carnival roustabout Perry (Richard Tyson). Soon the two are making tasteful love in every nook and cranny of April's mansion. Unfortunately for the two sexual athletes, April's grandmother (Louise Fletcher) has assigned the local sheriff (Burl Ives) to keep an eye on her. And an eye on her he keeps, so that during the wedding ceremony, he has quite a story to tell.
Rating:
R (adult situations/language, nudity, sex)
Genre:
, , ,
Directed By:
Written By:
In Theaters:
On DVD:
Runtime:
Studio:
Sony Pictures Home Entertainment
Critic Reviews for Two Moon Junction
All Critics (7) | Top Critics (1) | Fresh (0) | Rotten (7) | DVD (2)

Ozus' World Movie Reviews
And what exactly lies between the junction of two moons?
...lots of flesh, and some simulated sex. Isn't late-night HBO or Showtime cheaper at this kind of thing?

Audience Reviews for Two Moon Junction
This was one of those softcore flicks from the late '80s that I always thought I had seen before, but I'll be damned if we didn't sit down to watch it the other night and it all seemed completely new to me. Kinda sexy, mostly silly and overwrought, but amusing for what it is. Rental? If you're into that kinda thing?
Bill Bryant
Wow. Two Moon Junction has to be the Citizen Kane of Skinemax films. There's a tiny little plot packed between sequences of lustful actions to an alto sax. I didn't expect much and got just that. Here's the plot. Are you ready for this. I'm just going to go ahead and say "I'm not bullshitting you" because it's going to have to be done anyway, so we might as well get it out of the way early. The "plot" (snicker) is that a Southern belle (the girl that wants the girl that's pretending to be a guy in Just One of the Guys) is engaged, but suddenly decides to start having sex with a carnie (the dad from Kindergarten Cop or, for those of you playing the home game, Buddy Revell in 3 O'Clock High). From there the film is basically the two having sex, followed by the Carnie treating her like garbage, followed by her showing back up for sex. This is repeated over and over again until the Southern belle's grandmother (Nurse Ratched) decides that this is all bullshit and calls Sheriff Burl Ives (!) to take care of the problem. That's right, BURL IVES!!! So the movie is garbage. We all know that and I don't have to go into it any further. The one thing I want to throw out there is Louise Fletcher. I know I gave Cuba Gooding, Jr. a lot of crap about winning the Oscar and then flushing his career directly into the toilet, but after seeing this piece of shit I believe that Louis Fletcher is hands down the queen of career flushing. She winds the Oscar for Cuckoo's Nest and follows that one up with Exorcist II: The Heretic. If you go back in the archives you can see what a great movie that was. So after a decade of crap she decides to do this work... AND IT'S DIRECT TO VIDEO SEQUEL! If she's that strapped for cash we need to start a collection for this woman. I eagerly await the day when she stars in a film with Cuba Gooding, Jr. Hold on a minute and let me check...................................... nope, just some Oscar telecasts (now that's ironic). Nope, Marisa Tomei doesn't work either. In closing: Two Moon Junction, while being a title that is mildly suggestive, sucks. But at least Burl Ives is in it.
Chris Garman
Super Reviewer
Loved it! A great film of Zalman King's.
Two Moon Junction Quotes
There are no approved quotes yet for this movie.
Discussion Forum
Discuss Two Moon Junction on our Movie forum!