Adore
(2013)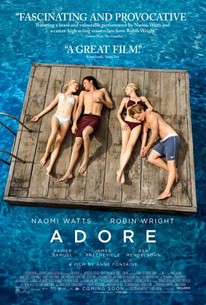 Movie Info
Set in an Australian seaside town of otherworldly beauty and shot in lush 35mm Cinemascope, ADORE establishes an aura of fable as it follows two women's plunge into uncharted waters. Watts and Wright fearlessly engage with both the physical and psychological components of the story, capturing the complex emotions and powerful desires driving their characters. Strong performances from relative newcomers Xavier Samuel (THE TWILIGHT SAGA: ECLIPSE) and James Frecheville (ANIMAL KINGDOM) complement Watts and Wright's and add another layer of intricacy to the story. Under the precise gaze of Fontaine's camera, ADORE radiates with intoxicating sensuality while exploring the intricacies of love, family, morality and passion.
People Who Like this movie also like
News & Interviews for Adore
Audience Reviews for Adore
An insufferably dull film that is so moralistic it is embarrassing, and it lacks any sense of direction or real conflict beyond an awkward, preposterous premise, proving to be so completely clueless about its purpose that it doesn't even care to offer a proper end to the story.
Carlos Magalhães
Super Reviewer
Very hard movie to review, this one. Reading that it is a French production does go part of the way to explain it - definitely this style of movie and storyline is something I would expect from a French movie. Coming from Australia, it was a bit of a surprise! First of all, have to say the movie looks great with the seaside setting. Cast were also all good. While I wouldn't say I liked the story exactly, it certainly did keep me watching to see how much worse it could get. These four people really did live in their own little world. I'm not sure it could happen exactly like this in real life - I could imagine one of the boys going for an older woman, but both?! And the women being like second mums to each boy made it that step harder to believe. Some random who looks good for her age, sure - someone who probably changed your nappy at one stage? Not so much.... And then to actually BE one of these boys mums and know what your son was up to with your best friend. Sure, they struggle with that, for about 10 minutes before shrugging it off as " well, I'm doing it too". Would that seriously happen? I felt really sorry for the wives at the end and the kids, but I think it ended how it should. Beautifully filmed and paced and well worth a watch, but I don't think it will be for everyone.
Nicki Marie
Super Reviewer
A Story About Common Interests. Decent Film! ADORE could have turned out really cheesy, but the very real characters, along with a nice blend of funny and sad moods, fitting soundtrack, and pretty Australian beach scenery keep it from becoming so. Fine performances by all the major players. Though more character and conflict development may seem needed at first, we get to know everyone and everything gradually, and the fact that they are all just fairly "normal" people is pivotal. Not the greatest script, but it's nothing if not realistic. But the tone of the film, as it unfolds, seems to almost turn it into a morality tale, suggesting these women brought difficulties and grief on themselves through their indulgent behavior. They experience joy for a time, but it comes at a great cost. Most women don't take up with their best friend's son for very good reasons. Yes it's predictable and fairly generic, but honestly I'd say it's quite hard to exactly hit generic these days, and this film does it. In short, you'll like it if you like softcore romance novels. Lil (Naomi Watts) and Roz (Robin Wright) are two lifelong friends, having grown up together as neighbors in an idyllic beach town. As adults, their sons have developed a friendship as strong as that which binds their mothers. One summer, all four are confronted by simmering emotions that have been mounting between them, and each find unexpected happiness in relationships that cross the bounds of convention.
Adore Quotes
There are no approved quotes yet for this movie.