Two Night Stand
(2014)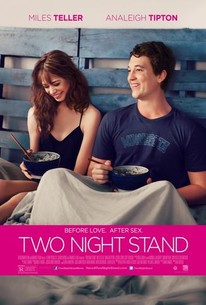 Movie Info
A no-strings-attached, online hook-up turns into a morning-after disaster for twenty-something New Yorkers Megan (Analeigh Tipton) and Alec (Miles Teller). When a paralyzing blizzard hits the city trapping them in Alec's cramped Brooklyn apartment, they are forced to get to know each other far beyond the confines of a typical one-night stand. Marking the directorial debut of Max Nichols, Two Night Stand is a sexy, romantic comedy about finding love in the digital age. The film also stars Jessica Szohr and Scott Mescudi (aka Kid Cudi). (C) eOne
News & Interviews for Two Night Stand
Critic Reviews for Two Night Stand
Audience Reviews for Two Night Stand
Two Night Stand(2014) Starring: Miles Teller, Analeigh Tipton, Jessica Szohr, Leven Rambin, Scott Mescudi, Kellyn Lindsay, Michael Showalter, Berto Colon, Brian Petsos, Josh Salatin, Chris Conroy, Victor Cruz, David Weiss, and Mike Lubik Directed By: Max Nicholas Review BEFORE LOVE. AFTER SEX Hello Kiddies your pal the Cupid critic here, with an interesting one night tale. You ever thought about having a one night stand twice. No, good it makes for a crappy movie. The film is about a chick whos hung up and hasn't done anything exciting because she sees her EX everywhere she go's with her friends and tries online dating. She hooks up with a guy, has sex, intends to leave cause she hates him but she can't cause of the snow and well they bond and you know the rest. I don't what goal this movie tried to achieve because its a very silly and stupid romance. They do have chemistry and I like the main leads, not the supporting cast. But have the time their just doing stupid stuff and plunging a toilet for thirty minutes. it would not seem interesting to any person who enjoys the genre of romance because it doesn't feel like a romance, I mean its not like a Nic Sparks movie where their fighting to be with each other, no it's just them talking and having sex and I don't care for the characters at all. There's no point, no talk of love or anything and its just a horrible silly attempt at a romantic comedy. The film doesn't come together all that well, I'm giving Two Night Stand one heart out of five.
Edward Cantillo
Buoyed by the chemistry of the leads and a simple premise, this is a amiable comdey that doesn't feel weighted down by traditional rom-com tropes...until it hits the home stretch when contrivance and ridiculousness hit new heights and ALMOST undermines the entire film. Forgive the ending, and it's not a bad time.
JT Kennell
Harmless rom com. Brief at 86 minutes too. Not overly realistic, and bit of a dangerous message to send the teen girls who will no doubt love this, but fine if you don't overthink it. A few laughs and a happy ending.
Nicki Marie
Super Reviewer
Two Night Stand Quotes
There are no approved quotes yet for this movie.
Discussion Forum
Discuss Two Night Stand on our Movie forum!