Tyler Perry's What's Done in the Dark - The Play
(2008)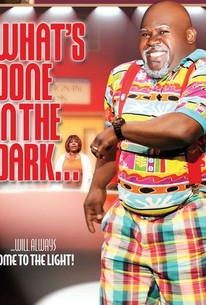 AUDIENCE SCORE
Critic Consensus: No consensus yet.
Movie Info
Stage and screen multi-hyphenate Tyler Perry returns to the helm for this lively tale of emergency room bedlam that finds a group of doctors, nurses, and patients desperately struggling to keep their secrets in the dark. Unfortunately for this crew, these things always find a way of coming to light.
Rating:
PG-13
Genre:
, ,
Directed By:
Written By:
On DVD:
Runtime:
Critic Reviews for Tyler Perry's What's Done in the Dark - The Play
All Critics (1) | Fresh (1) | Rotten (0) | DVD (1)
Though essentially a recording of the stage production, this film is still recommended, provided you understand that the thespians are over-enunciating and exaggerating their body movements to engage folks watching in the theater, not on a screen.

Audience Reviews for Tyler Perry's What's Done in the Dark - The Play
This one was pretty cool, even though one of the characters was a little over-the-top! It was still entertaining though.
Jalon Johnson
What's Done in the Dark written and directed by Tyler Perry starring David Mann, Tamela P. Mann, Christian Keyes, D'Atra Hicks, Chandra Currelley, Terrell Carter, Ryan Gentles, Shonda Vincent, Latrice Pace, Chantell Christopher, Dino Hanson, Ahmad Jamal McGhee, Nicki Baldwin The importance of spiritual, mental and physical health is explored in this 2006 teleplay written and directed by Tyler Perry. The play takes place in a hospital populated by randy nurses, duplicitous doctors, and exceedingly volatile conditions that lead straight to personal revelations that shake the establishment to its foundations. The scene is a hospital where the staff are all suffering through various maladies regarding relationships, money and desire. Brenda (Currelley) tries to raise her son Calvin Jr. (McGhee), a highschool basketball star, without the involvement of her dead-beat dad husband Calvin Jr. (Hanson). Nick (Gentles) contracts a venereal disease and aggressively forces his wife Angela (Baldwin) to take a test. Dr. Paul Bowman (Carter) has been stringing Kerry Johnson (Vincent), the head nurse, along while harboring a secret that explodes leaving Kerry confused and hurt before she garners the strength to get even. Trudy (Hicks), a nurse, makes no secret of her longing for Dr. Harris (Keyes). Brown (David Mann) imagines he's dying despite having no symptoms and his daughter Cora (Tamela P. Mann) tries to comfort and dissuade him from letting his imagination go out of control. Like is so often the case in Tyler Perry productions there are characters here who are consumed with tremendous energy and who are writ large upon the stage. Trudy is a human wreck painted in surreal, wholly outrageous tones that grate at first but eventually grow upon the viewer like a mushroom on the base of a tree. She's loud almost nonstop and expresses a wide array of emotions that render her exceedingly manic for much of the film. She could never be allowed to get away with her behavior in a real hospital but this is not such a place and is indeed an absurdist vision of what a hospital might be like if it came directly from a tremendously expressive and dangerous dream. Brown is typically deranged in this film as he imagines himself to be seriously ill although there is no indication that this is indeed the case. He's again dynamic, a bit frightening, and larger than anything else in the room. Brown, with his abrasive fashion sense, is a work of art that Perry has been playing with since his first plays. He's a mercurial character who lacks a grasp of English and routinely says the wrong words although in a colorful way that brings into question the role of language in communication. His malapropisms are routinely the funniest bits from the play and coupled with Brown's behavior offer a distinct portrait of a lunatic who seems to have taken over the asylum. There are serious issues tackled in this play including infidelity, sexually transmitted diseases and the necessity of paying close attention to one's health as one ages. The two doctors in this play are polar opposites in their demeanor and thought processes. Dr. Bowman is secretly loathed by his staff and he treats Kerry like chattel. He's rude, mean-spirited, and an absolute liar. In contrast Dr. Harris is straightforward, affable, and genuinely concerned with the health of his patients. Naturally Dr. Harris is a man of God and Dr. Bowman is not. The contrast between the two is a none-too-subtle articulation of the importance of God in every aspect of a person's life. This is accentuated by the many songs that call on God for help, protection, guidance and an otherwise open portal for grief, confusion and fear. The songs are regularly intense experiences and manage to clear up a troubled mind who might be battling with the same concerns while watching this play. Tyler Perry's explicit employment of Christianity as a guiding force comes through clearly in this play as it does with all of the others. There are some powerful singers in this cast including D'Atra Hicks who can hold a note longer than any previous member of the cast. It's an intoxicating experience to witness such a feat and it stands out as a memorable moment in a play that is filled with them. There is a real sense of crying out in this production that appears to be more intense than most of the other Tyler Perry works. "Step Aside" by Tamela Mann is a particularly effective plea for understanding that resonates over the course of the play. It's a dynamic call to let God take charge of one's life by simply getting out of the way and letting him work through one's life. Many of the songs here, co-written by Perry, fuel the story continuously and accentuate the conversation taking place on the stage. Tyler Perry always manages to come up with solutions to the dilemmas he puts forth in his stories. There are no loose ends left here as every character gets what they either want or deserve. As in many of Perry's works there is at least one character who is a lout who exists outside the realm of God-fearing comradery that makes up the bulk of the play. In this case Dr. Bowman is adamantly anti-God and outwardly mocks Kerry's tendency to praise God routinely at work. He is driven by his career and all of the special privileges that have been afforded him by his lofty position. He is callous and cruel and the play makes him out to be an example of a person who doesn't have God in their lives and who is subsequently devoid of virtues afforded those characters who are believers. He is the typical Perry bogeyman who haunts the play due to his lack of faith in God and the premises that the production is built upon. Calvin Rhodes Sr. is also presented as a lousy man who is not taking responsibility for his own son. It isn't clear about his religious views but he represents all of the men who refuse to do what is proper and help raise their kids. This is in contrast with Dr. Harris who pays $9,000 per month to his wife for child support. Dr. Harris makes an offhand comment about wanting to see the receipts from everything his wife has spent his money on. This triggers an absolutely scintillating attack through song by D'Atra Hicks who sings that there are no receipts from all of the things a woman does to raise her child. It's a blistering assault handled brilliantly by Hicks who here proves herself to be a rare talent capable of both comedy and mesmerizing vocal prowess. The performances in this film are all quite strong and typical for Perry productions. David Mann again proves himself fully capable of playing a blooming lunatic with extraordinary energy and comedic timing. Tamela P. Mann plays her usual understanding and exceedingly Godly role. She's deft and understanding when and where negative energy is flowing. D'Atra Hicks is also pure, unadulterated lunacy throughout this film. She makes a nice female counterpoint to Brown's ongoing battle with sanity. Her vocals are fantastically displayed in the final number of the production. Terrell Carter is wonderfully boorish from start to finish and it's refreshing that his character doesn't learn a thing in this play. Shonda Vincent is quietly dynamic as the put-upon woman who gets her glory in the end. Vincent displays a grasp of the nuances of dramatic performances as hers is one of the steadier serious roles throughout. Latrice Pace as Nancy is also a bit deranged which offers a great deal of comic relief. Overall, this play is simply one of Perry's best. It pinpoints various ills and goes after them relentlessly. There are flawed characters here who are revealed in all their ugliness for the audience to disseminate. Each of the relationships between characters are complicated by concerns that afflict them all in various ways. There is pain here but it is tempered with a fierce and relentless devotion to strict Christian pronouncements that carry the play through with sharp, controlled urgency that never abates.
Everett Jensen
Tyler Perry's What's Done in the Dark - The Play Quotes
There are no approved quotes yet for this movie.
Discussion Forum
Discuss Tyler Perry's What's Done in the Dark - The Play on our Movie forum!