Uchu kaijû Gamera (Super Monster)
(1980)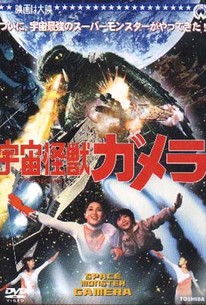 AUDIENCE SCORE
Critic Consensus: No consensus yet.
Uchu kaijû Gamera (Super Monster) Photos
Movie Info
If you know your Japanese giant-monster flicks, you'll know that Gamera is a huge, mercurial flying turtle. Like Godzilla and Mothra before him, Gamera hasn't always been on the side of the humans, but he's been known to save the earth from time to time by warding off even more ferocious monstrosities. Enough Gamera films had been made by 1980 to allow Gamera, Super Monster to rely extensively upon stock footage from earlier productions. To accommodate these excerpts, the plot contrives to have evil extraterrestrial try to rid the world of Gamera once and for all by unleashing all the monsters he's battled in the past. Mach Fumiake appears in the new "bridging" footage. Originally titled Uchu Daikaijuu Gamera, the film was also released as Super Monster Gamera. ~ Hal Erickson, Rovi
Critic Reviews for Uchu kaijû Gamera (Super Monster)
All Critics (2) | Fresh (0) | Rotten (2) | DVD (1)
The absolute worst possible daikaiju eiga made by an even remotely important film studio.
No film featuring a half-dozen skyscraper-sized monsters duking it out can possibly justify being this lethargic.
Audience Reviews for Uchu kaijû Gamera (Super Monster)
Gamera is a series you don't associate for quality, but they do have their charm and seeing a giant turtle killing monsters and breathing fire never gets old. Now what happens when you take away the only redeemable element from your franchise and replace him with stock footage? The worst entry in the series in a franchise that's filled with plenty of ridiculous moments. Gamera Super Monster or more appropriated Stock Footage: The Movie deals with alien forces sending all the monsters Gamera has faced in one final battle to rid the planet of its last hope. Now having Gamera fighting against his previous foes which include a rainbow shooting monster, one monster that got our turtle pregnant, a giant squid, one that I would describe as a walking swordfish with the abilities to throw shooting stars, and many more should have been awesome to see. That's not the case as nearly two third of the movie is nothing but stock footage. If you haven't seen the previous entries than this won't seem that bad to you, but if you have seem the previous entries it'll feel like a kick to the balls. It's like the filmmakers intentionally made this movie to kill of Gamera and piss off his fans. Now there is new footage of Gamera, just barely two minutes and he doesn't do anything awesome. You know a movie is bad when you can't even enjoy a giant turtle flying in space at what I like to call his "Hoover Shell" and destroying alien spaceships. As for the other one third of the movie it's lacks creativity and imagination, and this is the same series that somehow got our giant turtle to play music with a giant chicken bone. So there's these alien women who do some ridiculous hand gestures and disguises themselves as "Earth Women". These aliens have to protect some kid who has the most annoying dubbing for a little kid and prevent another evil alien from getting him. Once again the aliens look like people, not a single feature whatsoever to make them look like aliens. Unfortunately this entry also uses Gamera campy theme which will most likely make your ears bleed if you watched the dubbed version. As awesome as Gamera is there's always three things he can't defeat. One being bad writers, second being low budgets, and lastly a group of filmmakers and cast that show no dedication or effort in this. Gamera Super Monster is the worst in the series for even making our monster boring to watch.
Caesar Mendez
Super Reviewer
A movie in which Gamera faces all his past foes in one film, the concept alone should have made for an interesting flick. However, all the footage of the monsters is stock footage. So basically you are watching all of Gamera's battles from his previous films, which is not a movie but merely a glorified clip-show. The plot is only their to connect the stock footage sequences in a very contrived manner. If I wanted to watch Gamera's past battles I would either watch those movies again or look them up on youtube. The alien spaceship is a such a blatant rip-off of the Imperial Star Destroyer, that I'm surprised that George Lucas did not sue somebody. This movie was supposed to save the studio from bankruptcy but it ended up putting the final nail in their coffin because the movie flopped upon release. This movie is the "Godzilla's Revenge" of the Gamera franchise, it is the absolute low-point of the series. It is awful no matter how you look at it.
Christopher Heim
Super Reviewer
Uchu kaijû Gamera (Super Monster) Quotes
There are no approved quotes yet for this movie.