Ultimate Avengers: The Movie
(2006)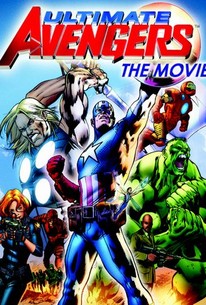 AUDIENCE SCORE
Critic Consensus: No consensus yet.
Ultimate Avengers: The Movie Photos
Movie Info
Six superheroes are recruited to save mankind in this action-packed animated feature.
News & Interviews for Ultimate Avengers: The Movie
Critic Reviews for Ultimate Avengers: The Movie
All Critics (4) | Fresh (3) | Rotten (1) | DVD (4)
Average animated action tale features troubled superheroes.
It gave me what I wanted, in terms of entertainment, acting, animation, and sheer style...
It's too violent for younger viewers, but not mature enough for older ones. It's a movie trapped in between target audiences.
Audience Reviews for Ultimate Avengers: The Movie
½
Fast-paced, action-packed, and really fun to watch, "Ultimate Avengers: The Movie" may not be the most sophisticated Marvel film out there, but as their first kick at the can in returning to animated films, they definitely did not disappoint. Now don't get me wrong, as much as I enjoyed watching this film, it almost feels too short for the amount of substance lingering around the film and a lot more that was brushed over felt like it needed to be explored. The main goal of this film was to bring together all of the classic and well-known characters to fight an enormous threat, and while that aspect of it was awesome, I felt like they were too afraid of The Hulk for me to care about the main threat that had been set up. At times the script goes all over the place, but when it's on track, it hits every mark that it should. Overall, it's not a great film, but it is a blast to watch!
The Ultimate comics were a great re-imagining of the Avengers in a gritty, more plausible and realistic universe. Unfortunately, their animated counterparts always lack the sophistication, depth and maturity to communicate any of that. So here we have this little abomination. It's kind of disheartening to see a cast that has such potential distilled and simplified into a brainless extravaganza of explosions and contrive drama for "young viewers" but here it is. 2 stars instead of 1 because god knows this is as good as an adaptation of these characters in animated form are going to get for decades to come.
Drake Tsui
Super Reviewer
More like an episode of the animated TV series, rather than a movie. It's rushed, not much story, but there is a lot of action. This doesn't even compare to the DC Animated movies(and I've always been a marvel guy myself). Those movies feature great animation, and solid storytelling. This showcased lackluster animation and a story that shouldn't have been crammed into 68 minutes. Captain America's origin starts the movie out, then we get just a couple minutes with the rest of the Avengers. Luckily with the live action movies, we've gotten each characters back story out of the way. Here, their all just thrown together at random. While the action is what you would expect, don't expect much more from this. I just hope, and pray, that the live action movie next year is far better than this.
Everett Johnson
Super Reviewer
Ultimate Avengers: The Movie Quotes
There are no approved quotes yet for this movie.