Ultrasuede: In Search of Halston
(2012)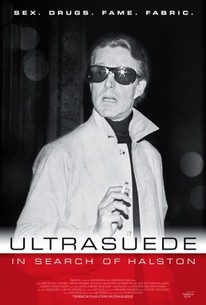 Ultrasuede: In Search of Halston Videos
Ultrasuede: In Search of Halston Photos
Movie Info
A fascinating portrait of the rise and fall of America's first celebrity designer-Halston- the man who was synonymous with fashion in the 1970s, and became the emperor of NYC nightlife. Interviews with friends and witnesses (including Liza Minnelli, Diane Von Furstenberg, André Leon Talley, Anjelica Huston, Bob Colacello, and Billy Joel, among others) round out this glittering evocation of the man who defined the most beautiful and decadent era of recent memory. -- (C) Tribeca
Critic Reviews for Ultrasuede: In Search of Halston
Audience Reviews for Ultrasuede: In Search of Halston
What a waste of an amazing subject! Who the fuck is Whitney Smith? (that's rhetorical, I know who he is, he's NOBODY) and why did anyone associated with Halston agree to do this, knowing what an empty vessel Smith is? It's not a "fascinating portrait" of anyone, especially Halston. It's a stupid, meandering, half-assed film about someone who actually is fascinating. Every atom of Smith's camera/VO is an exercise in how NOT to make a documentary. This is what happens when retail clerks finally save up and get a camera.
Paul Klees
Possibly the worst documentary I have seen in four decades. Liza advises this fame-whore to do some research. Fat chance. He asks elementary questions as if he just landed from another planet. He interviews his mom for insight as to why he may be drawn to this subject. She doesn't have a clue, noting he liked "Smokey & the Bandit" growing up, something we already have guessed due to the endless ground shots of him getting in and out of his souped-up Trans Am. An interview subject from Vogue is astonished by his lack of research and knowledge. Their interview is interrupted when Sudler-Smith's cell phone goes off. When the interviewee chastises him, Sudler-Smith is confused because "they are both from the South". Sudler-Smith's ringtone is "Dixie" and the man he is interviewing is African-American. That tells you all you need to know about the clueless Sudler-Smith. He shoots interviews, such as with Ms. Minnelli, over her shoulder so it is he that is on camera. He is always on camera. This film is all about him, and little on Halston outside of some vintage film footage. He asks banal, uninformed questions, and then interrupts the responses five words in. At one point, a subject tells him, STOP INTERRUPTING! Sudler-Smith has brown hair in this scene, blonde hair in that one, then golden hair with a Fu Manchu in the next. This film has less to do with Halston and more to do with immortalizing the fabulous Sudler-Smith on celluloid for all time. What a waste of celluloid. Somebody wishes they were Burt Reynolds in the 70s, or at least a vapid star-f*cker who could do blow and hang out at Studio 54. That fact is the biggest takeaway from this film, which is yet another insult piled on the legacy of Halston. I doubt you can find a "documentary" on Rotten Tomatoes with a lower rating than this one, for good reason. An abomination.
Ken Filmex
Its a shame the story of Halston had to share time with Sudler-Smith's ego. What could have been a remarkable documentary with incredible footage and interesting subjects was lost to a director that somehow feels that he is as interesting as his subject.
Harvey Lynch
Ultrasuede: In Search of Halston Quotes
There are no approved quotes yet for this movie.
Discussion Forum
Discuss Ultrasuede: In Search of Halston on our Movie forum!