Umberto D
(1955)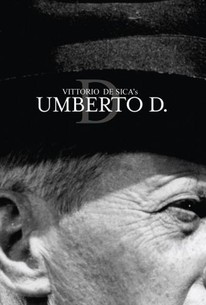 Movie Info
Produced, directed, and co-scripted by Vittorio de Sica, Umberto D is a disarmingly simple film about an alarmingly complicated social issue. Umberto (Carlo Battisti) is a retired civil servant, bereft of friends--save for his pet dog--and family. Unable to pay the rent on the shabby room where he has lived for three decades, Umberto is slated for eviction. His angered protests to the Italian government about the cavalier treatment afforded him and his fellow senior citizens fall upon deaf ears. Desperately trying to raise his rent money, Umberto discovers that no one really wants him around. He contemplates suicide, but decides not to go through with it out of concern for his dog's well-being. At film's end, Umberto is "doomed to live." Though the story has the potential for a heavy-handed approach, DeSica wisely follows the edict established by co-scenarist Cesar Zavattini: the camera does not comment, it merely observes. A box-office failure in Italy (where it ran into resistance from government officials who preferred that the senior-citizen dilemma be swept under the rug), Umberto D was the recipient of numerous industry and festival awards.
Critic Reviews for Umberto D
Audience Reviews for Umberto D
½
This neorealist masterpiece by master Vittorio de Sica is a deeply heartfelt and unforgettable portrait of a poverty-stricken life in postwar Italy, avoiding any sort of easy sentimentality and needing no effort to make us love and care about its struggling character.
Carlos Magalhães
Super Reviewer
the realism and simplicity of this film is penetrating. probably even better than de sica's slightly more well known film "bicycle thieves", umberto just has a charm that helps you resonate with his plight. the end of the film comes upon us a bit too abruptly, but the rest of the film is nearly perfect.
½
Ah, Italian Neorealism. This film was alright. The bit with the dog at the end nearly killed me. Ravage a human monstrously and I will be fine. Injure a dog, and I'm coming after your blood....
Jennifer D
Super Reviewer
Umberto D Quotes
There are no approved quotes yet for this movie.