Uncle Tom's Cabin
(1927)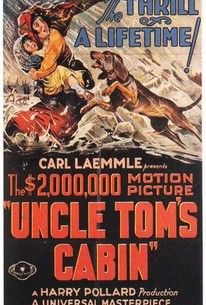 AUDIENCE SCORE
Critic Consensus: No consensus yet.
Movie Info
D. W. Griffith had originally been announced as the director of the Universal "super-production" version of Uncle Tom's Cabin, but negotiations fell through and the job went to studio workhorse Harry A. Pollard. Running 141 minutes, this was the most elaborate filmization of the Harriet Beecher Stowe "abolition" classic to date, and even though it wasn't entirely faithful to its source, audiences went home satisfied. James B. Lowe stars as bloody but unbowed slave Uncle Tom (a role traditionally assigned to a white man in blackface!), while George Siegmann, drooling tobacco juice and brandishing a whip with furious abandon, is Evil Personified as Simon Legree. Other familiar roles were filled by Margarita Fischer (a somewhat long-in-tooth Eliza), Virginia Grey (Eva), Mona Ray (Topsy) and Lucien Littlefield (Lawyer Marks) The film owes more to the theatrical versions of Uncle Tom's Cabin than the novel, including the escape of Eliza across the ice, an incident that was invented for the stage. Budgeted at one million dollars, Uncle Tom's Cabin had to be released several times in the 1930s to break even. Excerpts from the film later showed up in the opening scenes of 1955's Abbott and Costello Meet the Keystone Kops.
Critic Reviews for Uncle Tom's Cabin
There are no critic reviews yet for Uncle Tom's Cabin. Keep checking Rotten Tomatoes for updates!
Audience Reviews for Uncle Tom's Cabin
½
First of all, the film tries too hard to have it both ways, both condemning and romanticizing slavery. Secondly, slaves Eliza and George (as well as the couple's son and Eliza's mother) are played by white actors. And by that I don't mean they're played by white actors in blackface make-up, which was a common practice at the time. I mean the characters are played by white actors, completely undisguised! So you're forced to sit there and just pretend that you're watching black people! It's about as convincing as Tom Hanks playing Martin Luther King! Watching a white master beat up on a white slave renders the whole movie kind of ridiculous.
Christopher Poole
this is very much in the blockbuster style. not an artsy film at all. very one-note characters and ridiculous sequences throughout. and it looks about five years older than it is, which is significant in the silent film era. but the film is very entertaining. let me put it this way. i was not planning to watch this movie, but flipped to it and kept watching. and this is a silent movie we're talking about here! the plot is a bit disingenuous because of the slightly positive depiction of slavery and the choice of mulatto slave protagonists for the audience to relate to. also, many of the african americans in the film verify stereotypes of them. but tom's character, the best acted part in the film, redeems most of that latent racist pathos with his excellent demeanor. so while it is a bit shallow on the literary front, it is entertaining for a silent film.
Jason Dennis
Love the movie & the book, which was my favorite when I was a child ... reading it every summer - loved New Orleans - and everything else about this place, my man and my child ...
Spice Mommy
Uncle Tom's Cabin Quotes
There are no approved quotes yet for this movie.
Discussion Forum
Discuss Uncle Tom's Cabin on our Movie forum!