Uncovered: The Whole Truth About the Iraq War
(2004)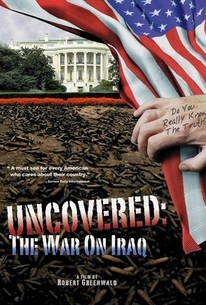 Uncovered: The Whole Truth About the Iraq War Photos
Movie Info
Robert Greenwald produces and directs the documentary Uncovered: The Truth About the Iraq War. In order to expose the Bush administration for misleading the public about the Iraq war, Greenwald presents the stories of informed political figures, scientists, and intelligence officers. Includes interviews with former CIA operative Robert Baer, magazine editor David Corn, and former ambassador Joe Wilson. Features interviews with over two dozen experts, including weapons inspectors Scott Ritter and David Albright. Following a series of screenings at public libraries, coffee shops, and university campuses across the U.S., Uncovered was distributed on DVD by Disinformation.
Critic Reviews for Uncovered: The Whole Truth About the Iraq War
All Critics (6) | Top Critics (1) | Fresh (6) | Rotten (0)
If at the end we find ourselves as Michael Douglas' character in Falling Down, at least we're there with the knowledge that we were right to be paranoid.
Less entertaining but more substantial than Michael Moore's Fahrenheit 9/11.

Ozus' World Movie Reviews
For a brief, artlessly spliced series of talking-head quotes, this documentary gives a remarkably thorough demolition of the Bush administration's concocted case against Iraq.
Audience Reviews for Uncovered: The Whole Truth About the Iraq War
½
Actual experts weigh in on the US government's reasons for launching a "preemptive" war on Iraq in 2003. The 2004 version includes the additional antiwar doc Soldiers Pay.
Tammy
What was Greenwald thinking with the 5-10 minute opening where he just introduces experts? There is some strong content, but the ending is also weakl. Not nearly as effective as other documentaries on Iraq.
More a primer for the uninitiated than a thorough examination of the claims used to justify the invasion of Iraq by the Bush administration, [I]Uncovered: The Whole Truth About the Iraq War[/I] deconstructs the Bush administration's decision to invade Iraq in March 2003 through a collection of "talking head" interviews, including former U.S intelligence and defense officials, foreign service professionals, and U.N. weapons inspectors, interspersed with news clips and sound bites of Bush administration officials, including Secretary of State Colin Powell, Secretary of Defense Donald Rumsfield, Deputy Secretary of Defense Paul Wolfowitz, National Security Advisor Condeleeza Rice, Vice-President Richard Cheney, and President Bush himself. According to the director, Robert Greenwald ([I]Outfoxed: Rupert Murdoch's War on Journalism[/I]), the impetus for this documentary grew from the dawning recognition in the summer of 2003 that the central justification for the invasion, Iraq's alleged possession of weapons of mass destruction (i.e., chemical, biological, and nuclear weapons), had not only been proven false in the aftermath of the invasion, but that the administration had subtly reframed the terms of this justification from "weapons of mass destruction" to "programs for weapons of mass destruction," a rationale with a far less compelling standard of proof. Given the mainstream media's unwillingness to challenge the current administration's shifting claims for invading Iraq, Greenwald felt compelled to memorialize the misinformation, distortions, and, in some cases, the outright lies presented by Bush administration officials as they made their case to the U.S. Congress, the mainstream media, the American public, and the international community. Greenwald counters and compliments the video footage of Bush administration officials with an impressive lineup of experts, including Milt Bearden, a former CIA officer; Rand Beers, former Special Assistant to the President and National Security Council Senior Director to Combat Terrorism; Graham Fuller, former Vice-Chairman, National Intelligence Council, CIA; Peter Zimmerman, Chief Scientist, Senate Foreign Relations Committee; Henry Waxman, U.S. Congressman, California; David Corn, Washington Editor, The Nation; Clare Short, former UK Cabinet Minister; John Dean, former White House Counsel, Nixon Administration; Robert Baer, former CIA operative, Iraq and Lebanon; Joseph Wilson, a career foreign service officer and ambassador; In 1990, as chargé d'affaires in Baghdad, he was the last American diplomat to meet with Saddam Hussein before the first Gulf War; Scott Ritter, former Marine Captain and UN Weapons Inspector, 1991-98 (the UN inspectors left Iraq amid accusations that CIA operatives had been planted on the inspection teams to spy on Iraq, contrary to their UN mandate). Greenwald's experts debunk the two principal justifications for the invasion of Iraq, weapons of mass destruction, and the Saddam Hussein-al-Qaeda connection offered by the Bush administration, and the assertions that were used to support those justifications, from claims that Hussein was engaging in a nuclear weapons program that would bear short-term fruition, to mobile chemical and biological weapons labs, to unaccounted for weapons stockpiles, to the unfounded, if vaguely articulated claim, that Hussein's regime could launch an attack on U.S. shores via a missile attack (the upper range of Hussein's missiles was, in fact, 300 miles). First, the Bush administration's central claim that Iraq was engaging in a nuclear weapons program was based on superficially plausible, if controvertible, assertions: that Hussein's regime had acquired aluminum tubes necessary for uranium enrichment programs (doubtful, in the opinions of many intelligence experts), that Iraq had attempted to obtain "yellowcake" uranium (an enriched form of uranium), and Iraq had begun reconstruction at former nuclear testing facilities. In each case, the evidence was either incomplete or riddled with inconsistencies, but Bush administration officials continued to rely on the nuclear weapons assertion up to and through the invasion of Iraq. For example, both Condeleeza Rice and Dick Cheney used the emotion-charged image of an atomic mushroom cloud to parry anti-war critics. Second, the Saddam Hussein-al-Qaeda connection: as both the recent 9/11 Commission Report and the Senate Select Intelligence Commission Report have recently confirmed, the connection was tenuous at best, with no corroborative evidence to support an ongoing, "operational" relationship between Hussein's regime and al-Qaeda. As several experts suggest, the Bush administration's claim that Hussein was either actively supporting al-Qaeda or offering them weapons of mass destruction ran counter to conventional wisdom within the U.S. intelligence community. Autocratic dictatorships are defined by their unwillingness to turn over control of their own weapons to third parties. In this case, given the secular nature of Hussein's regime, and al-Qaeda's nature as an extremist, fundamentalist Islamic group, the probability of an alliance was low, but more importantly, the possibility of transferring weapons of mass destruction between Hussein and al-Qaeda was remote at best. Oddly, the probability of such a transfer [i]increased[/i] as the likelihood of invading Iraq grew stronger. Most intelligence analysts didn't believe Saddam Hussein would use weapons of mass destruction outside of a battlefield, unless he himself believed a U.S. attack was imminent. As the world learned after March 2003, Hussein didn't use weapons of mass destruction before, during, or after the "end of major combat operations" in Iraq nor did Hussein's regime transfer unconventional or conventional weapons to al-Qaeda or one of its surrogates. Last, even giving the benefit of the doubt on the weapons of mass destruction claim, Greenwald reminds us that the Bush administration's impatience (and hubris) led to the invasion, not Hussein's failure to comply with UN Security Council resolutions. UN weapons inspectors, led by Hans Blix, were given a broad mandate to search for, catalogue, and if found, destroy, Iraq's weapons of mass destruction. They found none over the course of their three-and-one-half month investigation, an investigation curtailed by the Bush administration's decision to invade Iraq, regardless of the results found (or not found) by the UN weapons inspection team. As Scott Ritter, former UN weapons inspector (1991-98) reiterates in [i]Uncovered[/i], the inspections had, in fact, worked, and a new set of inspections also would have worked, given sufficient time. Greenwald's experts also look at post-invasion issues. For example, the mounting costs of the invasion and the occupation (estimated at $150 billion dollars by year's end), and Bush administration claims that the war and the subsequent reconstruction would be paid through Iraqi oil revenues. Greenwald's experts also criticize the Bush administration for using the War on Terrorism rhetoric to support the Iraqi invasion when the opposite was likely true: Hussein had no connection to 9/11, and no "operational" relationship with al-Qaeda, and any invasion of Iraq was likely to lead to an extended occupation which, in turn, would limit the U.S. military's flexibility to respond to actual terrorism threats around the world. Iraq was (and is) a costly diversion (both in terms of manpower and economic costs) from the War on Terrorism. Where Greenwald's documentary falters, as did Michael Moore's [I]Fahrenheit: 9/11[/I], is in its limited scope, in the decision to focus purely on the Bush administration's distortions, exaggerations, and lies, without also focusing on the actual tactics and strategies used to sell the war to the American public (and to a lesser extent, the international community, which through the UN Security Council, refused to authorize an international response to Iraq beyond additional inspections). Those tactics and strategies were chiefly aimed at manipulating the mainstream media (and through them, the American public) into supporting the administration's claims about Iraq. The mainstream media, however, abdicated any responsibility for questioning and critiquing the central justifications made by the Bush administration for the invasion. By March 2003, every major newspaper chain, every national newspaper, and every cable channel had accepted the Bush administration's claims as incontrovertible fact, and either explicitly or tacitly supported the war. A documentary on the media's complicity and/or negligence, however, has yet to be made.
Mel Valentin
Uncovered: The Whole Truth About the Iraq War Quotes
There are no approved quotes yet for this movie.
Discussion Forum
Discuss Uncovered: The Whole Truth About the Iraq War on our Movie forum!