Undefeatable
(1993)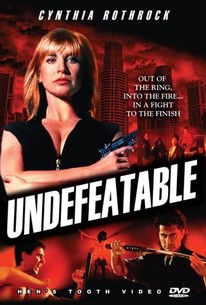 AUDIENCE SCORE
Critic Consensus: No consensus yet.
Movie Info
Statuesque martial arts doyenne Cynthia Rothrock stars in Undefeatable. As in most of her films, Rothrock's principal motivation is revenge. When her sister is murdered by a serial killer, she lays a trap for the villain. Unfortunately, the killer is also well-versed in martial arts. This Undefeatable should not be confused with the 1994 adventure flick of the same name starring Stan Kang.
Rating:
R
Genre:
, ,
Directed By:
Written By:
On DVD:
Runtime:
Critic Reviews for Undefeatable
There are no critic reviews yet for Undefeatable. Keep checking Rotten Tomatoes for updates!
Audience Reviews for Undefeatable
It was either give this 5 stars or none. On one hand it's the worst action/marital arts movie ever. On the other hand it's the worst action/martial arts movie ever. This movie is so AMAZINGLY awful that it is worth knocking back a couple of drinks and watching the sheer incompetence of everyone involved in this travesty of a movie.
Jess Coker
I surf through YouTube every once in a while. One day, I came across a video uploaded by Mastabiff on February 10, 2006. It is titled "Best fight scene of all time" and, as of March 07, 2011 (11:05 PM, CST), has received 8,137,593 views. The video is the final fight scene of "Undefeatable", a martial arts movie starring the female Chuck Norris, Cynthia Rothrock. The atrocious puns, physically-impossible stunts, exaggerated grunting, greased bodies, and laughable choreography on the video is enough for you to comprehend what the movie is all about. Kristi Jones (played by Cynthia Rothrock) is a waitress who earns extra money by participating in street fights with gangs who act nothing like the ones you hear about every day. The money helps pay for her sister's college tuition. However, a muscular Michael Douglas-look-alike with Sylvester Stallone hair and serious abandonment issues is on the loose. He is Paul a.k.a. Stingray (played by Don Niam), a violent fighter who has been torturing, raping, and killing women who resemble his runaway wife. Kristi's sister becomes a victim and Kristi teams up with detective Nick DiMarco (played by John Miller) to pursue the perpetrator and bring him to justice. There are three ways to stop Stingray: arrest him, shoot him on sight, or fight to the death. Obviously they have to fight to the death since "Undefeatable" is that kind of movie, right? Not one fight scene gives any sort of redemption for the movie whatsoever. The editors are supposed to correct the actions of two different shots, make it all match; however, in "Undefeatable", they fumble with the frames and fail to create a sensible transition. The bulging eyes do not serve the participants any good especially when they are gouged out. The ugly usage of slow motion worsens the confrontations and does not give us the engaging thrills we need. In their movies, Zack Snyder and the Wachowski Brothers employ slow motion for their combat scenes with emphasis on critical blows or effective movements; Godfrey Ho, the director of "Undefeatable", bothers to constantly slow the most uninteresting moments of the fight scenes. The only good slow motion sequence is a man thrown over a garbage can and I am not being enthusiastic about it. The same attitude goes for the random, Asian civilians who go kung fu on any attacker they encounter. The martial arts champion protecting his girlfriend is one thing but, seriously, not every Asian citizen knows the art of combat. Cynthia Rothrock performs some intriguing stunts in "Undefeatable" yet her acting is what drags her into ruin. She has a chance to develop a strong relationship with her onscreen sister but when emotion calls for her, Rothrock drives the train off the tracks and into a wide ditch. As for costar Don Niam, he is incapable of emitting the gritty rage that drives his character to commit violent acts of rape and torture. Niam sternly utters his lines as if he were a robot while the rest of the cast recite boring, dull dialogue that has either been recycled in the past or poorly executed. I laugh at people who use the "why deal with me when there are rapists and murderers across the street" routine with the police. The movie does try to use small samples of poetic monologue that could be given credit for effort but even those lines are poorly executed. A martial arts expert is brought in to shine some analysis on the murders committed by Stingray and I strangely find myself interested in the fighting styles he shows to the police. It is hard to tell which is fact or fiction but I always admire a film's attempt to inform its audience of some subject material. Even the psychiatrist (played by Donna Jason), who is asked to aid the police in the investigation, gives me something to think about when she provides her insight. She turns out to be the one actress who can deliver a barely decent performance in the film. The other likable character is Mike (played by Jerald Klein), Detective DiMarco's partner who tends to miss all the action. Besides the main protagonist, I try to find someone to root for in a movie, someone who I feel should not perish. In "Undefeatable", the psychiatrist and Mike are the ones to fit the bill. The film is a martial arts flick trying to exhibit new techniques and stunts but they fail to excite me. The climatic fight scene on YouTube is easily the best bit because of its horrid yet amusing aspects. As a whole, "Undefeatable" is a dismal stain on the fighting genre and it cannot be cleaned because of the notoriety the clip has gained. Yet again, I guess bad movies should be presented to the public to get an idea of what makes a great film great and what makes a bad movie bad. My Rating: 2/10
Tyler Hale
This movie is awful, yet hilarious. But it's not hilarious enough to get 5/5. Only Silent Night Deadly Night 2 and A Hard Ticket to Hawaii are worthy of that.
Zack Tarleton