Under The Boardwalk: The Monopoly Story
(2011)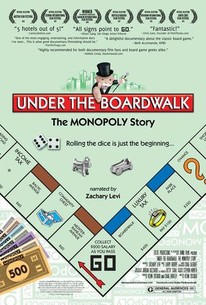 Under The Boardwalk: The Monopoly Story Photos
Movie Info
Under the Boardwalk: The MONOPOLY Story, a gripping documentary narrated by Zachary Levi. For more than 75 years, the game of MONOPOLY has brought friends and families together on countless occasions and created millions of memories. This fascinating documentary shows how the classic board game has become a worldwide cultural phenomenon, and follows the colorful players who come together to compete for the coveted title of MONOPOLY World Champion. -- (C) Tostie Productions
Rating:
G
Genre:
,
Directed By:
Written By:
In Theaters:
On DVD:
Runtime:
Studio:
Critic Reviews for Under The Boardwalk: The Monopoly Story
Audience Reviews for Under The Boardwalk: The Monopoly Story
"Under The Boardwalk" is a two-fold documentary that tells the history of Monopoly and also follows several players competing in the Monopoly National Championship. Although this board game may not seem like the most exciting subject matter in the world, the documentary never drags on or has an opportunity to get boring because it is constantly interspersing segments about the competitions, history, and quirky players of Monopoly. It is definitely a film that all viewers can relate to, since this is essentially a part of every person's childhood. After seeing "Word Wars" (a similar documentary about Scrabble), I am so thankful that this film is G-rated and does not contain so much profane language that it is nearly unwatchable. It is interesting to see how the places on the board were determined, the original intent of this game, and how it eventually was picked up by Parker Brothers, but my personal favorite segment of the film is the one entitled "Collectors." This segment brings attention to the people who take Monopoly fandom a step (or three) too far. Nothing beats that Monopoly bathroom! Whether it means to or not, the segments about the people who treat Monopoly as a lifestyle provide the comic relief that prevents the film from dragging on like the actual game often does. Regardless of your interest in the game, this documentary provides a unique insight into the history and modern world of Monopoly and is definitely worth a watch.
Jonny Priano
"Rolling the dice is just the beginning..." Under the Boardwalk is a surprisingly entertaining affair. I expected a sort of History Channel-esque type of documentary where we'd learn a lot about the history of the game, which this movie basically does, but it also inserts some entertainment value with the tournament play. We go through the basics, learning how the game is played. Then we talk to some people who have made Monopoly more then just part of their life. Some of them live for it. We see the game and how it started. We see the pop culture effect. People have tattoos and name their pets after characters from the game. But the most fun comes from watching the tournament and banter between players.  At times, Under the Boardwalk had the same feel of King of Kong in that the some of the people actually had disdain for some of the other contestants. One guy in particular hated a school teacher because he was thought to have cheated to make it to the U.S. Finals. It's kind of ridiculous to think that these people take the game so seriously, but everybody has their thing. Like people who are into chess or poker and play competitively; so do these players. They are in it to win like any other competition.  This little film isn't amazing, but it is informative and actually a decent amount of fun. I know a documentary on a board game doesn't sound like a great way to spend 88 minutes, but they make it a nice little experience. I love documentaries and will give pretty much any of them a chance, and it's always nice to see one come through that you didn't expect much from. Like Air Guitar Nation or King of Kong, it takes a subject that not too many people know about and show the competitive side of it. This one does quite make it to the level of those two, but it's still a pleasant surprise.
Melvin White
Super Reviewer
"Under the Boardwalk" is light hearted documentary about all things Monopoly. From it's origins, to collectors, to the world Monopoly championship. If there's ever something you wanted to know about this famous board game, or it's culture, then this is right up your alley. At 88 minutes the movie doesn't over stay it's welcome. Runs at a better pace than the game itself. I grew up with Monopoly and found this very interesting and entertaining. Last few years documentaries have been getting better and better, and this follows this trend.
Everett Johnson
Super Reviewer
Discussion Forum
Discuss Under The Boardwalk: The Monopoly Story on our Movie forum!
News & Features