Sous les Toits de Paris (Under the Roofs of Paris)
(1930)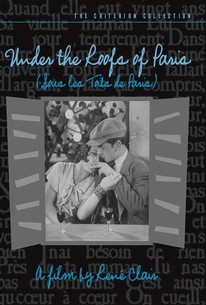 Movie Info
Rene Clair's Under the Roofs of Paris is one of the first French films shot in sound. The film is a relaxed melodrama where a Parisian street singer (Albert Prejean) and his friend (Edmond Greville) pursue the love of the same woman (Pola Illery). Clair chose to use sound only when needed, preferring to tell the story through his visuals as well as through his dialogue. The result is a striking film, boasting beautiful photography and sets, as well as a moving story. ~ Stephen Thomas Erlewine, Rovi
Critic Reviews for Sous les Toits de Paris (Under the Roofs of Paris)
Audience Reviews for Sous les Toits de Paris (Under the Roofs of Paris)
Director Rene Clair peaked with "Le Million" and "A Nous la Liberte" in 1931, but the previous year's "Under the Roofs of Paris" was a solid step toward those twin glories. Unfortunately, the plot of "Paris" is trivial -- just a dull neighborhood tale of a street singer, his best friend and a crook competing for the same pretty girl. But the music is what's most hard to swallow. Anyone not sentimental for wheezing Parisian accordion will cringe through these moldy tunes. And the singer's money scheme -- leading curbside sing-alongs in the hopes of peddling sheet music -- is also horribly archaic. Really, "Under the Roofs of Paris" is only notable as filmmaking. It's obviously an early talkie and, in every scene, Clair aggressively wrestles with the new technology. The line between experimentation and mere frugality isn't so clear -- many scenes take convenient shortcuts, like when inaudible dialogue in a bar seems drowned out by nearby music. Except the music has been added to silent footage in post-production, only simulating a "live," diegetic soundtrack. Such quirks are common throughout the film. Clair was ambivalent about the arrival of sound, and he steadily tweaks the medium here. Other twists include a morning alarm that is turned off by touching a shoe, a scratched "William Tell Overture" record used as score and an important fight scene that is silent except for irrelevant train noises. The momentum tends to shut down when a rare conversation occurs. And the acoustics aren't right, due to primitive miking and shooting "outdoor" scenes inside a studio. "Under the Roofs of Paris" is one of those films that's revered more because it was ahead of the curve than because it was actually so great.
Eric Broome
Super Reviewer
[center][img]http://www.cinemaofdreams.com/gfx-200207-SMP/RoofsOfParis-160x200.jpg[/img][/center] [color=yellow]Under the Roofs of Paris (1930, René Clair) ***[/color] [color=#ffff00]Criterion Collection[/color] [color=white]An early sound film from director René Clair, it's really closer to a silent film, with occasional dialogue thrown in when deemed necessary. Many times instead of dialogue there are gestures to convey meaning- close ups of feet first going one way, then another, as an important choice is made. I've seen this described as a "musical" which is by no means correct. Our hero happens to be a poor street singer, but otherwise there is no connection to the modern definition of a musical. Technically, the film is a near masterpiece, particularly the use of crane shots. My favorite scene though is the fight in the alley towards the latter part of the film. The lighting is dramatic and highlights the action, while to the right a train goes screaming through the night. The film is ripe with subtle surrealistic influences, both visually and with its use of sound- broken mirrors and glass, rats scrounging through a spilled matrimonial meal, the record that sticks and repeats a maddening melody that echoes a state of mind. I only wish that our hero, Albert, had not fallen for such a floozy. Pola's affections drift from one man to another, and hardly seem worth all he endures for her. I think if the plot had just a little more dramatic punch, this easily would have reached classic status.[/color]
Jerry Killingsworth
Sous les Toits de Paris (Under the Roofs of Paris) Quotes
There are no approved quotes yet for this movie.
Discussion Forum
Discuss Sous les Toits de Paris (Under the Roofs of Paris) on our Movie forum!