Under the Volcano
(1984)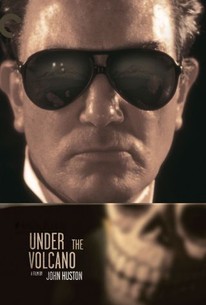 Movie Info
A strange, hallucinatory adaptation of Malcolm Lowry's novel is set during the Mexican "Day of the Dead" ceremony in 1939. Albert Finney stars as the booze-besotted former British consul to Cuernevarca, who has cut himself off from his loved ones. Finney's half-brother goes on a search for his missing sibling.
Critic Reviews for Under the Volcano
Audience Reviews for Under the Volcano
A bitter portrayal by Albert Finney of a man on the road to destruction. It is off the wall and bends reality sufficiently to off put many a viewer.
John Ballantine
Super Reviewer
while this is often compared to 'night of the iguana' i found it a much more fulfilling experience. huston was 78 when he made this and proves he still had it in him for a project he cared about. one of the few films that gets mexico right. a decent adaptation of a so-called unfilmable novel, a showcase for albert finney as a last stage alcoholic, and one of jacqueline bissett's best performances too. bravo!
Stella Dallas
Super Reviewer
Director John Huston's fascinating character study of a self-destructive alcoholic former British diplomat named Geoffery Firmin, played by Albert Finney in a devastating tour-de-force performance that deservedly earn him an Oscar nomination. The story unfolds in a small Mexican village during the Day of the Dead festivities in the late 1930s, it concerns the last 24-hours of the tortured Firmin's life, who is drinking himself to death. He is so guilt ridden over the past and his lost relationship with his lovely estranged wife, wonderfully played by the beautiful Jacqueline Bisset, who he still yearns for. She has returned in the hopes of healing their broken marriage, but he cannot forgive her for her affair with his half-brother nicely played by Anthony Andrew. This is a Intelligent, but downbeat film that rely's entirely on Finney's amazing portrayal of the late stages of alcoholism, which by itself is staggering, he captures the physical mannerisms and emotionalism of a hopeless drunk, his depiction of this is truly unforgettable. Impressively directed by the late great John Huston, with superlative photography by Gariel Figueroa, based on the famous novel by Malcolm Lowry. Highly Recommended.
Danny Rovira
Super Reviewer
Under the Volcano Quotes
There are no approved quotes yet for this movie.