Undercover Brother
(2002)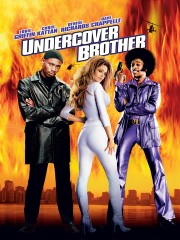 Undercover Brother Trailers & Photos
Movie Info
Undercover Brother began life as an animated series on the Internet. The satirical cartoon was created by novelist and screenwriter John Ridley (Three Kings) for the website /urbanentertainment.com. Ridley wrote the screenplay with Michael McCullers, co-writer of the Austin Powers sequels, and it was directed by Malcolm D. Lee (Spike Lee's cousin, and the writer/director of The Best Man). The film stars Eddie Griffin (of TV's Malcolm and Eddie) as Undercover Brother, he of the gold Cadillac convertible and huge Afro, who uses gadgets and disguises to steal from the rich and give to the poor. His activities are discovered by the B.R.O.T.H.E.R.H.O.O.D., a spy organization devoted to subverting The Man (Robert Trumbull) and his henchman, Mr. Feather (Chris Kattan), who use their power over the media to demean black people and destroy racial unity. The spy organization is run by The Chief (Chi McBride), who is constantly screaming at his subordinates. They include Sistah Girl (Aunjanue Ellis), a beautiful martial artist, Conspiracy Brother (Dave Chappelle), who sees white supremacist plots everywhere, and Smart Brother (Gary Anthony Williams, who provided the voice of Undercover Brother in the cartoon), who supplies the operatives with gadgets and information. When a popular black political figure, General Boutwell (Billy Dee Williams), calls a press conference, presumably to announce his presidential candidacy, and instead announces that he's opening a chain of fried chicken restaurants, the B.R.O.T.H.E.R.H.O.O.D. rightly suspects foul play, and recruits Undercover Brother to look into it. He goes undercover as an uptight buppie to work for The Man, but his cover is soon blown, and the seductive White She Devil (Denise Richards) is sent in to use her feminine wiles to destroy Undercover Brother.
more
| | |
| --- | --- |
| Rating: | PG-13 (for language, sexual humor, drug content and campy violence) |
| Genre: | Comedy |
| Directed By: | Malcolm D. Lee |
| Written By: | Michael McCullers, John Ridley |
| In Theaters: | May 31, 2002 Wide |
| On DVD: | Jan 14, 2003 |
| Box Office: | $38.2M |
| Runtime: | |
Cast
News & Interviews for Undercover Brother
Critic Reviews for Undercover Brother
Audience Reviews for Undercover Brother
Clintus Maximus
Super Reviewer
Undercover Brother: You mess with the 'fro, you got to go.

It's an understatement to say that I'm disappointed with Undercover Brother. I had fun for about 20 minutes and then it gets old and it gets old quickly. That would be because it's a one-joke comedy and you can only hear a joke so many times before it's not funny anymore. The movie was way to mild also. If your going to go for a Blaxploitation type movie; then go for it. This being PG-13 destroys it in my eyes. This type of movie can't survive without without tons of violence, nudity, and profanity. That's just how it is.

The movie does have some bright spots. It features a really good soundtrack. Eddie Griffin isn't horrible in the lead role, but Dave Chappelle and Neil Patrick Harris are the two actors to watch in this one. Denise Richards, while attractive, annoys the hell out of me no matter what she's in. I can't stand her.

Basically Undercover Brother doesn't entertain me throughout. Yeah it's going to be stupid and I'm fine with that. But what it shouldn't be is dull and boring. After awhile it does become dull and it does become somewhat boring. It just can't maintain the laughs and that will kill a comedy every time.
Melvin White
Super Reviewer
this movie is hilarious. I love how racist it is. a great comedy. B+
Undercover Brother Quotes
Anton Jackson/Undercover Brother: Blackness confirmed.
The Chief: This chicken is the b-o-m-b !
Anton Jackson/Undercover Brother: You mess with the 'fro, you got to go.
Discussion Forum
Discuss Undercover Brother on our Movie forum!
News & Features