The Underground Comedy Movie
(1999)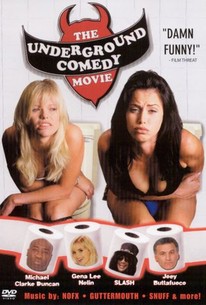 The Underground Comedy Movie Videos
The Underground Comedy Movie Photos
Movie Info
First-time filmmaker Vince Offer crashes through the outer limits of bad taste in this wildly outrageous collection of comedy sketches. Adapted from material Offer first worked out on a public-access television series, The Underground Comedy Movie includes a gender-switch parody of The Godfather, a cross-dressing version of Dirty Harry, a "Batman" who attacks criminals with a Louisville Slugger, the misadventures of a gay virgin out on the town, a take-off on Randy Newman's song (and music video) "I Love L.A.", a beauty pageant featuring bag ladies as contestants, swimmers being attacked by sharks while a lifeguard ogles beautiful women, and plenty of stuff not too rude to describe in this context. The cast includes Michael Clarke Duncan (in a bit shot before his rise to fame), Gena Lee Nolin, Slash, and Joey Buttafuoco.
Rating:
R
Genre:
Directed By:
Written By:
In Theaters:
On DVD:
Runtime:
Studio:
Critic Reviews for The Underground Comedy Movie
Audience Reviews for The Underground Comedy Movie
I've seen a lot of films but the Underground Comedy Movie is one that I wish I hadn't. Made by the Shamwow guy, it was extremely kitsch despite the good intention.
Sylvester Kuo
Super Reviewer
MisterYoda ?
Super Reviewer
Before he became a pitchman for super-absorbent towels, Vincent Offer (aka the Sham Wow guy) tried his hand at comedy. This movie demonstrates why we today know him as the Sham Wow guy and not as a comedian. The movie opens with a guarantee that it will be offensive, and it succeeds on that score. It's offensive because it calls itself a comedy and nothing in it is the least bit funny. There are skits that attempt to gross out the viewer ("Things You'll Never See -- Supermodels taking a dump"), skits based on puns (Batman as a guy with a baseball bat), and skits that attempt to parody songs and movies ("I Hate LA" sung to the tune of Randy Newman's "I Love LA"; "The Godmother" instead of "The Godfather"). All of them are lame, juvenile, and guaranteed to raise not so much as a smile. Some offensive things are funny, and some funny things are offensive, but offensive and funny aren't the same thing. I could only make it through 45 minutes of "The Underground Comedy Movie" not because I was offended, but because I was bored to tears. There's a common thread in Vince Offer's career. Both his movies and his towels suck more than anything else I've ever seen. At least the towels are supposed to. Avoid the movie like the plague.
Brian Seitzman
The Underground Comedy Movie Quotes
There are no approved quotes yet for this movie.