Underworld Awakening
(2012)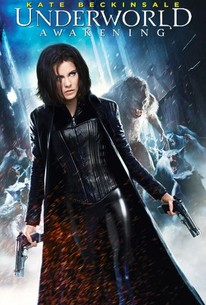 TOMATOMETER
AUDIENCE SCORE
Critic Consensus: There's more vapid action and less story in Underworld Awakening than previous installments, making the whole affair feel inconsequential.
Underworld Awakening Videos
Underworld Awakening Photos
Movie Info
Kate Beckinsale, star of the first two films, returns in her lead role as the vampire warrioress Selene, who escapes imprisonment to find herself in a world where humans have discovered the existence of both Vampire and Lycan clans, and are conducting an all-out war to eradicate both immortal species. -- (C) Official Site
News & Interviews for Underworld Awakening
Critic Reviews for Underworld Awakening
Audience Reviews for Underworld Awakening
½
This fourth installment is getting excited and entertaining since the second one about the mankind discover the existence of the Vampire and Lycan species and they begin a war to annihilate the races. Selene (Kate Beckinsale) awoke after 12 years while she and her lycan-vampire hybrid Michael Corvin were caught by the government, and she was freed by Eve (India Eisley) who is revealed to be a hybrid and the daughter of Selene and Michael. But the mother-daughter relationships shown were actually good and original - no hugging, no crying, no, "I love you, sweet girl!" Selene behaves as she should - she lost her loved one, so she wouldn't be a smiling happy mother just because she now has a daughter (though of course she would protect her). I could see Beckinsale in a bunch of physics-defying action scenes while dressed in her character Selene's signature leather outfit. You get that here. The action scenes are slick and well-made, the Lycans look better than they ever have before, and the ending sequence, involving at least three distinct battles, is satisfactory, even if the ending as a whole promises much more than it delivers.
Dean McKenna
Super Reviewer
½
Good to see Kate Beckinsale back for this forth outing. Just a pity it seems they are short of ideas, and backing it seems. It doesn't have the production value of the previous films, especially the first two. The cgi for the Lycans at times isn't that impressive. Hopefully if they do anymore it will be with a bigger budget and better story line. For fans of the franchise mainly who seek another Selene outing.
½
[img]http://images.rottentomatoes.com/images/user/icons/icon14.gif[/img] Since it's rough beginnings i've always been a huge fan of the Underworld saga and i've entirely devoted myself in defending it from the huge amount of people who have always had many reservations for it and seem to think otherwise. I know for a fact that the series is not as unintelligent as people think. I've always loved it's absolutely beautiful gothic visuals, the convincing lead performances, and the well choreographed action sequences. I believe that Selene is portrayed brilliantly by Kate Beckinsale and in that role she is simply badass. Selene is a very interesting and likable heroine whom you can easily relate to in reality. But most people really dont view the series the same way I do. Those who constantly criticise the film for it's lack of dramatic depth and character study dont seems to enjoy pointing out that the spectacle and set pieces in the film's are designed incredibly well. I often argue that the previous films do in fact have depth. However even myself, a massively loyal fan to the series, found some elements of Awakening problematic. Their is less of a focus on Selene and characterisation of the supporting characters in this 4th installment. I felt unengaged with them unlike a lot of the characters in the previous films and i'd be lying if I said that it wasn't a let down for me. The plot of Awakening is very thin, but nevertheless interesting. If any sequels are made I hope they take the opportunity to develop it into something unique and unexpected. But even though Awakening has a few problems that were not present in the previous films it has fast paced action that doesn't fall short and an elegantly intimidating performance from Kate Beckinsale that we've all come to expect, but still entertains me. It stands out from other installments by throwing in some interesting ideas into the mix that work very well but even though it's dissapointingly weaker than the previous chapters i'm still very confident in thinking it wil please the Underworld faithful, and as a fanatic of the Underworld franchise, I was entertained all the way through.
Directors Cat
Super Reviewer
Underworld Awakening Quotes
| | |
| --- | --- |
| Selene: | What is this place? |
| | |
| --- | --- |
| David: | We stand, and we fight! |
| | |
| --- | --- |
| Lycan Creature #1: | I heal instantly. |
| Selene: | I'm counting on it. |
| | |
| --- | --- |
| Eve: | 'Its worse if you fight it ... Trust me' |
| Eve: | It's worse if you try to fight it, trust me. |
Discussion Forum
Discuss Underworld Awakening on our Movie forum!