Undisputed 2: Last Man Standing
(2006)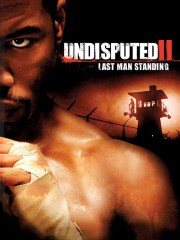 AUDIENCE SCORE
Critic Consensus: No consensus yet.
Movie Info
Spawn star Michael Jai White takes over the role originated by Pulp Fiction heavyweight Ving Rhames in this sequel to the 2002 boxing drama that finds protagonist George Chambers forced to fight for his life in the brutal world of Russian prison boxing. Imprisoned in Russia and forced to rely on his street-fighting skills as a means of surviving, Chambers soon discovers that in the unforgiving Russian penitentiary it's one's willingness to break the rules - not play by them - that could mean the difference between life and death.
more
New Line Home Entertainment
Cast
News & Interviews for Undisputed 2: Last Man Standing
Critic Reviews for Undisputed 2: Last Man Standing
There are no critic reviews yet for Undisputed 2: Last Man Standing. Keep checking Rotten Tomatoes for updates!
Audience Reviews for Undisputed 2: Last Man Standing
Now this is rare!! a cheap straight to DVD sequel that not only is better than the original but a really good stand alone film!! Here we have Michael Jai White replacing Rhames as 'Chambers' and being setup on a drug charge to get him into a Russian jail to fight the top inmate...Scott Adkins as 'Boyka'.

The plot is stripped down and the most basic excuse for a 'beat em up' I've come across for some time haha add to that the usual cliched inmate characters along with the usual vicious prison guards and warden and you have your usual prison flick. The main difference here is the amazing fight sequences performed by Adkins who, after seeing 'Ninja', has become the most impressive martial artist I have seen in a long long time. The man is solid, well built and can move gracefully achieving moves I have only seen in computer games, his acting isn't too bad in this film either to be honest...no worse than a young JCVD.

I can't lie, this film is the best fighter I've seen since the early days of Mr JCVD and films like 'Bloodsport' and 'Kickboxer' yet this film is so much more realistic, bloody and with much much better fight sequences. The fights are fast fluid and breathtaking as gymnastics are combined with stunt work to produce battles you would expect to see in the 'Tekken' computer game, I can't begin to say how impressed I was when I was expecting just a run of the mill crappy poorly made B-movie.
The only thing that let it down was the simple fact that I don't think Chambers could learn and become good at kickboxing in that short space of time plus I'm pretty sure in a real fight a kickboxer would beat a boxer but any ways expect to be surprised.
½
Whoa... what a showdown between Michael Jai White and Scott Adkins in the ring. Way cool!
Dean McKenna
Super Reviewer
Discussion Forum
Discuss Undisputed 2: Last Man Standing on our Movie forum!
News & Features