Undocumented
(2011)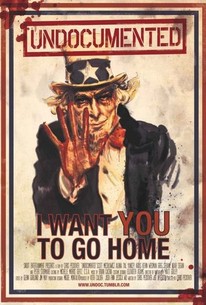 AUDIENCE SCORE
Critic Consensus: No consensus yet.
Movie Info
Undocumented is a suspense thriller in which a documentary crew accompanies a group of illegal immigrants crossing the border, but run afoul when they're captured by a gang of sadistic Radicals on location in New Mexico. -- (C) IFC
Rating:
NR
Genre:
, ,
Directed By:
Written By:
In Theaters:
On DVD:
Runtime:
Studio:
Critic Reviews for Undocumented
All Critics (1) | Fresh (1) | Rotten (0)
Marco Williams' remarkable film The Undocumented... considers these many burdens in a series of contexts.
Audience Reviews for Undocumented
½
This film really surprised me, because I usually hate these found footage films. Aside from the nausea, caused by the constant movement of the camera, I find that these films not only lack a budget, but also a decent story and cast. Undocumented was different though, as it was a novel idea with some fairly stable camera work. The story focuses on a group of college kids, making a documentary about illegal aliens, and how they cross into the United States. The group join a coyote for a run across the boarder when they are unexpectedly capture. Unfortunately for them, their captors aren't the police, but rather a group of self-proclaimed patriots, who abuse the illegal immigrants for their sick pleasure. We see a lot of films about how and why people cross the boarder and even a lot about what the police and government are doing about it, but I can't ever remember seeing a film about these vigilante groups, that do exist, and pray on illegals. Prison Break's Pete Stormare stars as Z, the leader of the rebel group and he basically makes the movie. This guy usually plays a gangster or inmate in the background of some random film or TV show, but he's never really the star, and it's a shame because he makes this movie. Z is such a deep character, who is brilliant yet deranged at the same time, a man who is as compassionate as he is brutal, it was really something to see. He's paired with a young cast of teen actors, who have been around for years, and who do a terrific job in support of his performance. This film isn't listed as a horror film, but it is pretty brutal and bloody, meaning you shouldn't watch it if you have a weak stomach. For me, it was an interesting take on an aspect of immigration that is rarely seen or talked about. The performances were impressive, the characters were deep, and the film never stops moving. I enjoyed the fact that this unique film really didn't have any big named stars in it and even though it had a shoe-string budget, the producers really made it work.
Todd Smith
Super Reviewer
The best IFC Midnight movie ever. Brutal and sure to stir up lots of controversy. A must see if you like horror.
Ken Kimmell
½
An intelligent usage of the found-footage format, Undocumented concerns a group of documentary filmmakers (of course) who decide to document illegal immigrants crossing the border into the United States. Upon crossing the border, they immediately run afoul of a militarized group who captures and tortures illegal immigrants in an attempt to stop them from coming into the country. They decide to keep the documentary film crew alive to document the proceedings as a propaganda film. and thus the rest of the film unfolds. Part found-footage, part torture-porn, Undocumented is a brutal look at the xenophobia and nationalist zealotry that resides in the extreme opponents of immigration reform. A film about xenophobia, racism, prejudice, and petty-minded conservatism, Undocumented makes a brutal but valid statement about many Americans' "let-em'die" attitude towards the rest of the world.
Al Miller
Undocumented Quotes
There are no approved quotes yet for this movie.