Une Femme Douce (A Gentle Woman)
(1969)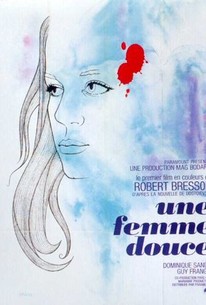 Une Femme Douce (A Gentle Woman) Photos
Movie Info
The original French title for Gentle Creature is Une Femme Douce. Both affectionate appellations refer to leading lady Dominique Sanda, a popular model of the 1960s, here making her film debut (Incredibly, she was chosen for the role by director Robert Bresson on the basis of her voice!) Sanda's first appearance is as a gorgeous corpse; she has committed suicide, and her pawnbroker husband (Guy Frangin) doesn't know why. It takes him nearly the entire movie to figure out what the audience has suspected all along: That the ravishing Dominique felt stifled by her husband's cloistered lifestyle. Gentle Creature was director Robert Bresson's first color film, and he proves himself as much a master with hues as he did in monochrome. Filmed in 1969, Gentle Creature was released in the U.S. in 1971, taking full advantage of Dominique Sanda's new international popularity. ~ Hal Erickson, Rovi
Rating:
NR
Genre:
,
Directed By:
Written By:
On DVD:
Runtime:
Studio:
Acacia Films
Critic Reviews for Une Femme Douce (A Gentle Woman)
Audience Reviews for Une Femme Douce (A Gentle Woman)
½
A strange sort of cold love with a few demonstrations of affection and tenderness. The "gentle woman" superficially seems to be passionate and innocent; the reveal of her character scares specially herself. Based on Dostoevsky´s A Gentle Creature, "Une Femme Douce" begins with a suicide and shows a typical realtionship where an orphan poor girl marries the owner of a pawnshop. The characteristics of their relationship, the lack of conversation, the isolation of both characters, her attitudes towards him show a relationship where each one has a specific role: he is the provider, she is the "submitted" wife. At first, the angry and the revolt. Caught in a life she can´t stand, she thinks about killing him. Surprised, scared and ashamed, unable to suit up, she kills herself. Like in "Lolita", all we have are the words of a hurted man that needs to tell the story to get off his guilty and, maybe, try to reconstruct that one who was his object of desire.


Rubia Carolina
Super Reviewer
½
[center][font=Times New Roman][size=4][img]http://www.cinema-francais.fr/images/affiches/affiches_b/affiches_bresson_robert/une_femme_douce.jpg[/img][/size][/font][/center] [font=Times New Roman][size=4]Summary (from IMDB): A young woman kills herself, leaving no explanation to her grief-stricken pawnbroker husband. We learn in flashback about how they met, married, and how she failed to adapt her lifestyle to his. Disgusted with his attempts to dominate her, she considered murdering him, but found herself unable to do it.[/size][/font] [font=Times New Roman][size=4]This film took me on quite the ride. Bresson's film starts out on a familiar path, and about halfway through I could see exactly where it was headed and was ready to call it the weakest Bresson I'd seen. But Bresson approached the situation he had set up in a different way than I expected and the movie becomes nearly brilliant. [/size][/font] [center][font=Times New Roman][size=4][img]http://bp1.blogger.com/_3mCOm4wxK3M/SI9ktVqLyOI/AAAAAAAAAio/czD4zeTfwbY/s400/gentle.jpg[/img][/center] First, let me say that Bresson's cold characters work for me because I believe he uses them to illustrate how often our surroundings do seem cold and mundane. It's obvious Bresson intentionally creates his characters this way because in each of his films has at least one scene that proves that he is fully capable of having his characters show great emotion. For a while, I was worried he would never do such a thing in A Gentle Woman. Thankfully, I was wrong. The second half of this film is some of Bresson's best work as he really dips into his characters, especially the young female protagonist. The last 10 minutes or so are especially great. We see an object from earlier in the film which, in my opinion touches on this woman's life from two different perspectives. And Bresson uses a closeup that's completely different in style than any Bresson shot I can remember. All of it works in a very emotional way, but that's all I can really say on the subject. Overall, this is my third favorite Bresson.[/size][/font]
Chris Weseloh
Une Femme Douce (A Gentle Woman) Quotes
There are no approved quotes yet for this movie.
Discussion Forum
Discuss Une Femme Douce (A Gentle Woman) on our Movie forum!