A Cat in Paris
(2012)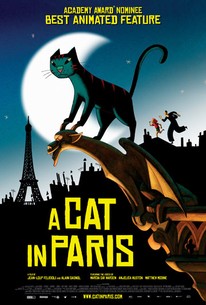 Movie Info
Dino is a pet cat that leads a double life. By day he lives with Zoe, a little mute girl whose mother, Jeanne, is a detective in the Parisian police force. But at night he sneaks out the window to work with Nico - a slinky cat burglar with a big heart, whose fluid movements are poetry in motion - as he evades captors and slips and swishes from rooftop to rooftop across the Paris skyline. The cat's two worlds collide when young Zoe decides to follow Dino on his nocturnal adventures - and falls into the hands of Victor Costa, a blustery gangster planning the theft of a rare statue.Now cat and cat burglar must team up to save Zoe from the bumbling thieves, leading to a thrilling acrobatic finale on top of Notre Dame. -- (C) GKIDS
Rating:
PG (for mild violenced and action, and some thematic material)
Genre:
, , , ,
Directed By:
Written By:
In Theaters:
On DVD:
Box Office:
$287,709.00
Runtime:
Studio:
News & Interviews for A Cat in Paris
Critic Reviews for A Cat in Paris
Audience Reviews for A Cat in Paris
A cat burglar helps a policewoman find the mob boss who kidnapped her daughter. Eminently forgettable, A Cat in Paris doesn't offer much. The plot is fairly basic, and the revenge fantasy is overbearing and lacking in any subtlety. The animation is neither realistic nor stylized. Overall, this is a short film, but I can't say a lot about it because it doesn't say a lot for itself.
Jim Hunter
Super Reviewer
½
It was a short and simple movie. Great movie to watch with the family. Great for the kids to be more specific.
Dead Angel
Super Reviewer
½

Une vie de chat, that was nominated for a César for Best Animated Film and was selected to te Berlinale, both in this year (2011), is a 2D love letter to film noir, crime films and, why not, comic superheroes, Hitchcock, the Pink Panther and maybe some more other things, all filled with a great soundtrack that "starts" with a vintage rendition of Billie Holiday's I wished on the moon and "finishes" with a delightful typical French song: "Java sous la neige" by Serge Besset. The opening credits (especially the song "Monte en l' air", also by Serge Besset) instantly reminded me of Spider-Man's, but someone pointed out that there are also similarities with Batman. Either way, the references to fantasy adventure films is also seen in the Colossus of Nairobi walking over Paris like King Kong does in New York. All that said, Une vie de chat sounds to be a great film. The plot surrounds a cat that leads a double life: during the day he is Dino, the pet of the little Zoe whose mother is a police superintendent and whose dad was killed by the gangster Victor Costa, and at night he is the cat, who follows a nice burglar over the rooftops of Paris. Things get bad when Zoe decides to follow Dino and is caught by Costa and his men. Now Dino and Nico, the burglar, have to save Zoe. Perhaps the film is able to keep kid's attention, but despite all the references* and the amazing gallery of "charming" and funny characters - the dumb night watchmens, the gang of gungsters, the big boss, the old lady neighbour, the little dog (a Yorkshire?)* - what started as a great promise, let me down. I read somewhere that the drawings recall Matisse and Picasso. I have not thought about that, but they really do. Not being the biggest fan of neither Matisse nor Picasso, that can explain my discomfort with some characters' facial expressions. Speaking of the drawings, the amazing "scene in the dark" (my favourite) reminded me somehow of the Simon's Cat, with the difference that Jean-Loup Felicioli's lines are thinner, resulting in a more elegant outcome. (However, this elegance might be due to the white lines over the black screen). And speaking of the characters, I'd like to make just a small observation on how Nico and Zoey's nanny seem to have foreign origins. Being the immigration a major topic in France, nothing more natural than "bring it up" in a casual way. * And the boat-rowing scene ... remember The Night of the Hunter? The argument in the car about food comes from Goodfellas. ** In the first scene where the dog appears barking, it's funny to note how its big shadow on the wall gives the idea of power to then, in the next moment, it be knocked down by a slipper.


Rubia Carolina
Super Reviewer
A Cat in Paris Quotes
There are no approved quotes yet for this movie.