Unforgivable
(2012)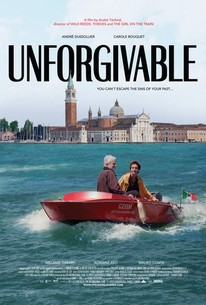 Movie Info
Francis (André Dussollier) is a successful crime writer who moves to Venice to work on his next novel. When he meets model-turned-real-estate-agent Judith (Carole Bouquet), he is instantly infatuated. Francis and Judith eventually marry and move to a remote house on Torcello Island but Francis' newfound happiness hinders his writing. Obsessing over what Judith does while at work, he hires a young ex-convict to investigate. As Judith's sexual past is revealed both men become increasing fixated on the mysterious woman. Set against the beautiful backdrop of Venice, Unforgivable examines the consequences of unresolved past relationships and their far-reaching effects into the future. -- (C) Strand
News & Interviews for Unforgivable
Critic Reviews for Unforgivable
Audience Reviews for Unforgivable
In "Unforgivable," Francis(Andre Dussollier), a famed author, is looking for a quiet place in Venice to do some writing, so Judith(Carole Bouquet), a real estate agent and art expert, suggests a nearby island. After thinking about it, he says he will take it if she moves in with him. Despite having doubts about sharing a bed with a man, a year and a half later they are married when his daughter Alice(Melanie Thierry), an actress, and granddaughter Vicky(Zoe Duthion) come to visit. All goes well until Alice disappears. First, Judith checks with Alvise(Andrea Pergolesi), a shady bit of nobility, before employing her friend Anna Maria(Adriana Asti), a semi-retired private detective, to take the case. If the movie "Unforgivable" has one thing going for it, it is the city of Venice which been filmed many times before, but not quite like this as it smartly explores the dividing line between tourist and resident. Outside of its setting and the very fine acting, the movie has more than its share of flaws, starting with the derivative jealousy storyline involving Judith's past and present, although I do like the line about her turning others on but nobody turning her on which definitely reminds of me of a former friend. And then there are the other tangents in this rambling narrative which at least serve in the telling the intriguing story of this extended family, of which Anna Maria is the most interesting and ironically given the shortest shrift. What would have worked better is a more compact narrative in a controlled structure.
Unforgivable Quotes
| | |
| --- | --- |
| Judith: | Your problem is that everyone is turned on by you, but you are turned on by no one. |
Discussion Forum
Discuss Unforgivable on our Movie forum!