Unidentified
(2006)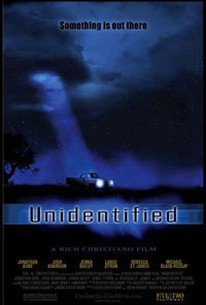 AUDIENCE SCORE
Critic Consensus: No consensus yet.
Movie Info
Three magazine reporters go on a quest for information in a small Texas town when an unexplainable phenomenon occurs.
Critic Reviews for Unidentified
All Critics (1) | Fresh (0) | Rotten (1)
...the cinematic equivalent of a Jack Chick cartoon tract, a modestly artful form of proselytizing.

Arkansas Democrat-Gazette
Audience Reviews for Unidentified
This movie is not about sci-fi but about how aliens are actually satan in disguise and how they are trying to prevent us from accepting Jesus in our lives. By accepting Jesus apparently all problems go away.
Raghu Srinivasan
[URL=http://www.praisepictures.com/ud_review.php]View Review Source[/URL] Unidentified, is the latest effort by the well known Rich Christiano. Its been about 4 years since Rich did a film, his last being Time Changer. The film spotty at best, working in some places and falling flat in others. The message as always in Rich's films is strong and laid thick. Whether that is good or bad you be the judge but I think the message is definitely viable. There really isn't a film that displays the subject of UFO's and Demons, so Unidentified stands alone on that subject. The actors in their roles are decent but the writing doesn't help at times, making it seem like almost any inflection of the lines written would fall flat. This doesn't apply everywhere however, there are moments of the film that shine through the fog. Unfortunately its not enough to bring the film up to my standards of quality. The camera work is pretty dull as well. There is nothing wrong with the cinematography itself, but it doesn't really help the story along, it seems to play it safe the whole time. It's unfortunate to see things like this on films with larger budgets than most Christian film. This might see a bit overkill on criticism but I'm not a big fan of the 1.85 aspect ratio used in the film. This film doesn't have an interesting enough environment in most scenes to fill the frame, so the film often feels like a TV Show or Series, not a cinematic film. Films that involve a lot of dialog to carry the flow really need something extra to keep interest, this film doesn't do that. Combining a lot of talking with the uninteresting camera work could make the film boring for some. Luckily it does pick up at a certain point and the ending is done quite well leaving the audience with a question to talk about when the credits role. Unidentified isn't the strongest film from Rich Christiano, but it gets the message across to its viewer. Who knows the film could strike up more conversation than you might expect. [URL=http://www.christiancinema.com/partners/scripts/t.php?a_aid=67f65594&a_bid=&desturl=http%3A%2F%2Fwww.christiancinema.com%2Fcatalog%2Fproduct_info.php%3Fproducts_id%3D1604]Buy from ChristianCinema.com[/URL] Kyle Prohaska CEO, Praise Pictures http://www.praisepictures.com
Kyle Prohaska
This is the very reason why Christians get no respect. Stupid story that starts terribly, gets preachy in the middle, stays preachy until the end, and culminates in a hateful act on the part of the movie's Christian characters. Bad film making, bad acting, flawed theology, utter crap.
Phillip Johnston
Unidentified Quotes
There are no approved quotes yet for this movie.
Discussion Forum
Discuss Unidentified on our Movie forum!