Universal Soldier: Regeneration
(2009)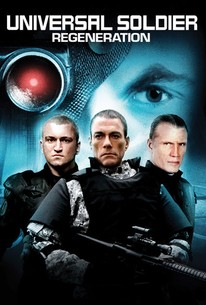 AUDIENCE SCORE
Critic Consensus: No consensus yet.
Universal Soldier: Regeneration Photos
Movie Info
Reactivated to do battle with terrorists who have taken over the Chernobyl nuclear reactor, Universal Soldier Luc Deveraux (Jean-Claude Van Damme) comes face to face with a more powerful upgrade of his former adversary Andrew Scott (Dolph Lundgren) in this action packed sequel from director Peter Hyams. Using stolen technology to transform a fearless fighter (Andrei "The Pit Bull" Arlovski) into an unstoppable force of destruction, a rogue militia holds the world hostage by threatening to blow up Chernobyl. The prospect of a peaceful resolution to the ordeal fading, the decision is made to reactivate Luc Deveraux, and send him in. But Deveraux isn't the only decommissioned Universal Soldier to be resurrected; his old nemesis Scott is back in action, too - and stronger than ever before. Now faced with the prospect of battling not one but two powerful Universal Soldiers, Deveraux braces himself for a fight he might not walk away from.
Critic Reviews for Universal Soldier: Regeneration
There are no critic reviews yet for Universal Soldier: Regeneration. Keep checking Rotten Tomatoes for updates!
Audience Reviews for Universal Soldier: Regeneration
½
Third entry in the Universal Soldier franchise is a better looking picture than the second film and is an improvement over the second. I quite enjoyed this third entry and though it isn't great, it's a fairly decent action flick that should entertain action buffs for an hour and a half. Acting wise, this entry still has very questionable performances, but relies on better action sequences that are more thought out than the second film. The film is flawed, but is well done considering its budgetary constraints and like the first film in the franchise, delivers what it sets out to do. The film's plot is actually pretty interesting, and much more laid than the disappointing previous one. Although nothing remarkable in terms of the plot, I really liked it and thought that overall Universal Soldier Regeneration was a decent affair, one that is among the better straight to DVD entries and actually manages to be worth seeing. If you want mindless action, then this film will offer what you're looking for. This is a violent and entertaining ride that is well done and although flawed, is pretty fun to watch. The violence is unrelenting and is not for the faint of heart. Lundgren reprises his role of the first film, and it's one of the standout aspects of this picture and it's one of the things that are sure to please fans of the original Universal Soldier. Far from perfect, but worth watching, this is a fairly entertaining film that is a pleasant time waster if you're in the right state of mind. In terms of a sequel to the original, this one pulls off what the second one couldn't do, and that's to be a totally immersive and thrilling follow-up. If you were disappointed by Universal Soldier The Return, this entry will provide you with some decent entertainment
½
OK so THIS is officially the sequel to the original 92 film despite it being fourth UniSol film IF you count the two made for TV films...geez!. So in other words they are trying yet again to reboot this ailing franchise, is it worth it you ask? hmmm sorta. Simply the plot here is really basic, group of terrorists have kidnapped the Ukrainian prime minister's son and daughter and holding them hostage for release of their mates that are banged up. Enter the US military and their UniSol project to save the day. Twist is the terrorists have also pinched the top ultra UniSol and using him for protection. So you have a slow build up of slaughter as the US send in some regular UniSols and basic troops. Its kinda cool that their is this one ultra tough UniSol on the bad guys side, Andrei Arlovski is a rough looking fella and he sure does look good in action. Super UniSol v regular UniSol, can't deny its fun to watch...but fleeting. Violence is high and the fighting is solid as Andrei wipes everyone out, so far so good. It just gets rather daft really when the US bigwigs decide to bring back aging UniSol 'Luc Deveraux' to go up against the new 'NGU' (new generation UniSol). Of course its a film and not real but come on...are we really suppose to think the wrinkled JCVD would be able to defeat Arlovski? just watching the film gives you the answer haha no. Then of course you get the added bonus of seeing 'Scott' return from the UniSol grave. Now yes I admit its cool to see JCVD and Lundgren go at it again but there is completely no need for this in the film. Its obviously just a hook to get people back to see the film, both action allstars back for the sequel. Lundgren's role is merely a cameo and pointless, plus the fight between them both is mainly stunt doubles from what I could see. So Lundgren comes and Lundgren goes with a weak ass death which make the whole thing even more pointless. We then get a pretty good fight between JCVD and Arlovski which of course you know how it will end, even though we all know it shouldn't do. Putting it blankly, this film is only good for seeing some decent fights between a super UniSol and some regular UniSols. Then lastly seeing JCVD fight Arlovski, and that's it, the fight between Dolph and JCVD is pointless and kinda fake. Everything in between you can fast forward through. The blood splatters enough to make this a reasonable adult action flick but it feels more like a tame excuse just to get JCVD and Lundgren back together again, desperately trying to achieve the glory of the original.
Phil Hubbs
Super Reviewer
A total blast. A tough, thrilling and riveting action-packed thriller. This is the best sequel in the series, it truly plays the story as the star and makes it better. An exhilarating and adrenaline-pumping action extravaganza that's an assault on the senses. It's loaded with awesome gun fights, stunts and fight sequences, especially the scene that looks to be filmed with one shot with Van Damme taking out and army of men, that brings him back to true action hero form. Jean-Claude Van Damme and Dolph Lungdren are back and better than ever, showing that they still got it and kicking more ass than ever. Van Damme and Lungdren bring a subtly and emotional regret to their characters which makes their performances more compelling. Van Damme shows the regret, pain and weight of responsibility in his performance. Lungdren gives an intense, unsettling and nuanced performance. Andrei Arlovski dosent give much of a performance but his intense and dominant presence that makes him a solid villain. A solid sequel that that's more true to its original and packs hard-hitting punch. Director, John Hyam`s crafts a sharp and out-going reboot to the series forgetting the poor attempt made with The Return, this film has great nods to Children of Men and Blade Runner.
Universal Soldier: Regeneration Quotes
There are no approved quotes yet for this movie.