Unknown World
(1951)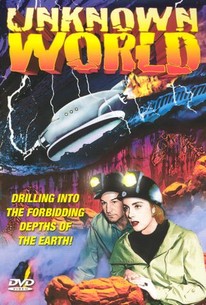 AUDIENCE SCORE
Critic Consensus: No consensus yet.
Movie Info
Assembled by the same production team responsible for the minor sci-fi classic Rocketship X-M, Unknown World isn't quite in the same league as its predecessor. The plot is set in motion by Dr. Jeremiah Morley (Victor Kilian), who theorizes that mankind could save itself during a nuclear attack by resettling far beneath the earth's surface. To prove his theory, Morley builds the Cyclotram, a combination drill and exploratory vehicle, with the financial assistance of playboy Wright Thompson (Bruce Kellogg), who insists upon joining the expedition to the earth's core. After several hair-raising adventures, the Cyclotram and its surviving passengers reach a cavern nearly 2000 miles beneath the surface. The cavern contains all the necessities of survival save one: the atmosphere renders anyone living within its walls sterile. Deciding that it isn't worth hiding in the center of the earth if only one generation will survive, the explorers endeavor to get back to the surface -- but who will survive this journey? The obligatory female lead in Unknown World is played by Marilyn Nash, who'd been discovered by Charlie Chaplin for the 1947 film Monsieur Verdoux.
Rating:
NR
Genre:
, ,
Directed By:
Written By:
In Theaters:
On DVD:
Runtime:
Studio:
Lippert Pictures
Critic Reviews for Unknown World
There are no critic reviews yet for Unknown World. Keep checking Rotten Tomatoes for updates!
Audience Reviews for Unknown World
A team of scientists explore underneath the Earth's crust and discover no mole people or other points of interest. Boring, cheap, and pointless. This "adventure" film is from producer Robert Lippert, which means lots of rock climbing.
½
There's a lot not going on here, and it takes forever for very little to happen. The characters aren't interesting, and the plot is simple but very stretched out. There's not a lot to enjoy from this film, but it isn't all bad I suppose. It has some interesting sci-fi concepts.
Wes Shad
Unknwon World (aka "To the Center of the Earth") Starring: Victor Kilian, Bruce Kellogg, Marilyn Nash, and Otto Waldis Director: Terry O. Morse A group of obnoxious scientiest and their boorish, wealthy patron hop in their nifty drilling amphibeous underearth ATV to explore deep underground, hoping to find a place where humankind can retreat to in case of a nuclear disaster. Never has so little happened during a "let's go looking for the underground world"-type movie. I think I can safely say that, despite the high bodycount among expedition members, the enterprise undertaken by the characters in "Unknown World" is the least eventful, most uninteresting, and ultimately pointles journey to "inner-earth" that any fictional characters have ever undertaken. There's no much here, exept a slighly more scientific take on what explorers might find deep underground--as in, no monsters, no nubile, scantily clad queens of Atlantis, no nothing. And, frankly, if you're going to make a movie about guys drilling their way to the center of the Earth, you better damn well give me some monsters and nubile barbarian queens at the far end! ("The Core" would have been better if there had been babes in loinclothes and little else at the end of that trip, too.)
Steve Miller
Unknown World Quotes
There are no approved quotes yet for this movie.