Unknown White Male
(2006)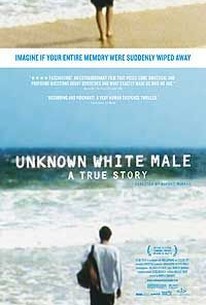 TOMATOMETER
AUDIENCE SCORE
Critic Consensus: With a quirky visual style, this documentary follows a story of memory loss and confusion while posing provocative questions about the nature of personality.
Unknown White Male Videos
Unknown White Male Photos
Movie Info
Douglas Bruce was a British expatriate living in New York City who in the early morning hours of July 3, 2003, found himself on a subway train heading toward Coney Island, with no memory of who he was, where he lived, or how he ended up on the subway. Bruce ended up asking a policeman for help, and was checked into the psychiatric ward at Coney Island Hospital. As doctors struggled to find out what had happened to him, he was admitted simply as "unknown white male." In time, a phone number in Bruce's wallet led doctors to a friend who identified him, but he himself still had absolutely no memory of his past. Rupert Murray was an old friend of Bruce's who heard about his condition and came to visit him with camera in tow and a stack of old home movies to reintroduce Bruce to his past. However, when he arrived in New York, Murray saw an old friend, but found a courteous but wary stranger looking back, and found that the "new" Douglas Bruce was in many ways a different man than the old Bruce. Murray followed Bruce as he struggled to relearn his own life, understand the history he could no longer recall, and grew into a new person with a new personality, and Unknown White Male is a documentary assembled from Murray's footage of both the new and old Dougs. Unknown White Male received its North American premiere at the 2005 Sundance Film Festival. ~ Mark Deming, Rovi
Rating:
PG-13 (for drug references and brief strong language)
Genre:
, ,
Directed By:
In Theaters:
On DVD:
Runtime:
Studio:
News & Interviews for Unknown White Male
Critic Reviews for Unknown White Male
Audience Reviews for Unknown White Male
½
Despite the allegations that this movie is a hoax, I still found it thought-provoking. I really didn't find Doug Bruce that likeable, but still worth a go.
Dimity Palazzola
I watched this through and completely went along believing it until, of course, I got on the internet and researched what people had to say. It turns out a fair number of people think that this is faked, and that there's a giant chance that Doug Bruce could have faked all of this in order to create an interesting new life for himself. After all, I have heard that he has met several famous people already who are sympathetic to his situation. He also has a girlfriend who looks like (and is?) a model, whom we see in the movie, who cares about him deeply. They appear to both be very happy. Would he have never met her if he remained the person that he was before? Keep in mind that Rupert Murray and all of Doug Bruce's friends believe that Doug is telling the truth, and pretty much stand by this. Nobody has outright admitted that they were in on any weird conspiracy between Doug and other people, as far as I can tell. But there don't appear to be any police records of Doug's initial appearance at the Coney Island police station, nor are the doctors who initially treated him present. There are only professionals who repeat, over and over, that yes there are three kinds of memory and that Doug's condition could theoretically be possible, but it would be strange given that he appears to have no cause for such strong amnesia. There is mention of the trauma that Doug experienced with his mother's death, but it doesn't seem to be connected to this. It remains murky. All of this truth-sifting aside, I enjoyed watching Doug re-enjoy his life and discover the imprints of his past. I wanted to believe him as he said that his personality now appears to be different from the way he was before, different from the jaded rich man with the arrogant sense of humor and a definite bunch of mannerisms. That's the thing about this movie, I notice - it's full of people who are rich, white, pretty, attractive. I don't see one real looking person at all being interviewed, which makes me wonder. And how exactly did Doug Bruce make all that money? He was a broker, this much we know, but what exactly does that mean, and how is it that he can hang out at his apartment all the time, re-discovering the world, without worrying one bit about how to make ends meet? He must have been loaded. Especially if he was living in such a spacious New York apartment, dammit. Despite all this, which came after, I did enjoy watching this movie. I just wish I knew for a fact if its content was true or not. I could imagine that if Doug really did suddenly forget everything for some random reason (like they all said, it could happen) people would still call repeatedly call him a fake. And It would hurt a lot, if I were him. I hear he has gone into relative seclusion. I don't blame him. I really hope (and wish) he is telling the truth.
Jennifer Sundt
This is an interested documentary about a guy that woke up on a subway with no memory of who he was and no identification on him, only a girls name and phone number. Doug Bruce, the amnesiac, discovers who he is and has to meet family and friends for the first time and decide what role they will play in his new life.
Phillip Renke
Unknown White Male Quotes
There are no approved quotes yet for this movie.
Discussion Forum
Discuss Unknown White Male on our Movie forum!