Unnatural
(1952)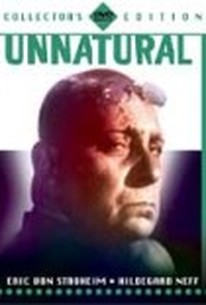 AUDIENCE SCORE
Critic Consensus: No consensus yet.
Movie Info
This charming documentary short examines the history of a species known as bufo marinus, aka the cane toad. When the greyback beetle terrorized sugar cane fields in Australia early in the 20th century, farmers brought cane toads back from Hawaii, hoping they'd take care of the infestation. Problem is, they couldn't quite do the job right. And since cane toads multiply like crazy, they've now taken over the country!
Rating:
NR
Genre:
,
Directed By:
In Theaters:
On DVD:
Runtime:
Critic Reviews for Unnatural
All Critics (1) | Fresh (1) | Rotten (0)
A hokum sci-fi film that only resonates because Von Stroheim is at his Prussian best as a man possessed by his incestuous love for his foster daughter.

Ozus' World Movie Reviews
Audience Reviews for Unnatural
½
[img]http://images.rottentomatoes.com/images/movie/coverv/23/205323.jpg[/img]Based on Richard Matheson's SF thriller I AM LEGEND, THE LAST MAN ON EARTH is about a man who survives a global plague only to be stalked nightly by zombielike victims who call out his name. Vincent Price stars as Robert Morgan, a scientist who tried desperately to come up with a cure for an airborne virus that was killing people around the globe. Although he could not develop a serum in time to save his family, he himself seems to be immune from the disease. Thus, he is left to wander the streets by day, staking zombies, then barricading himself in his house each night as the zombies try to break in and kill him. Price is excellent in the role, going about his horrible business as if it were just another day: waking up and eating breakfast, putting on a suit, calmly staking the zombies, making dinner, listening to records at night. But when he suddenly sees what looks like another living soul out in the daylight, his world is suddenly turned inside out. [b][font=Trebuchet MS][size=3]This film is a precurser to The Omega Man with Charlton Heston, and is one of Price's better films. It's also more faithful to the original story it's based on. Well worth a look.[/size][/font][/b] [b][font=Trebuchet MS][size=3][/size][/font][/b] [font=Trebuchet MS][size=3][b][u]Unnatural[/u][/b][/size][/font] Erich Von Stroheim stars as the bizarre scientist in this off the wall science fiction film. This mad scientist artificially inseminates a prostitute with the sperm of a murderer, creating a beautiful but artificial and dangerous woman, (played by Hildegarde Neff). With neither a soul nor morals, consequently this "unnatural" woman induces disaster amongst all those around her. Taking a bit of the worst qualities of both "parents", she entices men into her control and then goes on to murder them. Jealous Von Stroheim ends up demolishing his own creation when he sees Neff taking a heavy liking toward a man, (played by Karl Bohm). Based on the book, "Alraune" by H.H. Ewers. [b][font=Tahoma][size=3]A bit too slow paced, tho the theme is interesting. [/size][/font][/b] [img]http://upload.wikimedia.org/wikipedia/hr/thumb/6/6d/Hildegard_Knef_Suenderin.jpg/180px-Hildegard_Knef_Suenderin.jpg[/img]
Bobbie Murphy
Unnatural Quotes
There are no approved quotes yet for this movie.