An Unreasonable Man
(2007)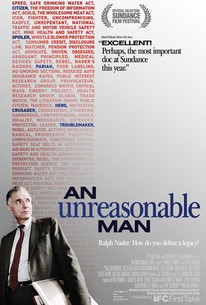 An Unreasonable Man Photos
Movie Info
The life and career of one of America's most tenacious consumer advocates and political activists is brought to the screen in this richly detailed documentary. Born in a small town in Connecticut, Ralph Nader was raised to believe the words of his father that "you can fight city hall," and Nader made a nationwide reputation for his willingness to take on the wealthy and powerful. After receiving a degree from Harvard Law School, Nader first became a household name in 1965 with his book Unsafe at Any Speed, in which he detailed the auto industry's willingness to sacrifice safety in the name of greater profits. The book so outraged General Motors that they hired investigators to dig up dirt on Nader and make trouble for him; the plan backfired when Nader sued for invasion of privacy and walked away with a 425,000-dollar settlement that he used to set up an activist group to investigate both public servants and private commerce and how they live up to their responsibilities. However, Nader's long career as a incorruptible watchdog was tarnished in 2004 when Nader ran for president in a campaign that attracted a great deal of attention for a third party candidate -- and was blamed by many Democrats for drawing enough votes away from Al Gore to allow George W. Bush to walk away with an extremely narrow victory. An Unreasonable Man was directed by Henriette Mantel and Stephen Skrovan, the former of whom worked as a member of Nader's staff in the '70s.
News & Interviews for An Unreasonable Man
Critic Reviews for An Unreasonable Man
Audience Reviews for An Unreasonable Man
This documentary tells the story of Ralph Nader's life in the run up to the 2000 Presidential election. This film is bookended by liberals, who are incensed at Nader, talking about how he ruined the country and tarnished his legacy. Then, the film details his legacy in length, highlighting Unsafe at any Speed and the several other initiatives Nader championed as a consumer advocate. But it eventually returns to a debate about Nader's decision to run in Florida, contrasting liberals' objections with Nader's defenses. I found myself liking Nader by the end of the film and dismissing his detractors. Nader's tenacity and moral commitment are things I admire, and the film does too. Overall, I think An Unreasonable Man is worth watching because there are reasons to respect this man no matter what his influence on American politics has been.
Jim Hunter
Super Reviewer
This is must see viewing for every human being that thinks he/she is in the know and for every American that considers himself/herself patriotic. This is "Mr. Smith Goes to Washington" meets Fox Mulder, but a true story, and without the happy ending. In a time in this country when we need someone with integrity, honesty, perseverance, and diligence, one needs to look no further than the decades of unrewarded selfless acts of this man. Regardless of your political viewpoints, it is hard to argue that if any politician had an ounce of this man's fortitude, we would all be better off. Once in a while a documentary comes along that changes the way I view the world and moves me to act upon it. This is one of those movies.
Richard Franzen
Super Reviewer
½
The directors really know their stuff, and focus on keeping everything from Nader's perspective. Word has it from the directors that Nader enjoys the movie himself, but mostly spent his screening thinking about other ways of helping society. I'm sure most intelligent people will do the same during the course of this picture. Less Nader biography, more "One Man Can Make A Difference" moral.
Daniel Hetteix
Super Reviewer
An Unreasonable Man Quotes
There are no approved quotes yet for this movie.