Unscripted
(2005)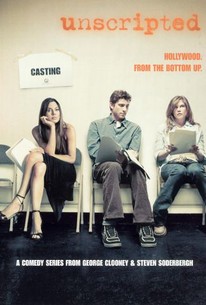 AUDIENCE SCORE
Critic Consensus: No consensus yet.
Movie Info
The second series created by executive producers George Clooney and Steven Soderbergh for HBO, Unscripted follows the exploits of three unknown actors attempting to make it big in tinsel town. Not a reality series in the traditional sense, the series co-starred Frank Langella as an acting teacher.
Critic Reviews for Unscripted
There are no critic reviews yet for Unscripted. Keep checking Rotten Tomatoes for updates!
Audience Reviews for Unscripted
½
This series takes a look at what it is like to be actors. The filmmakers gave this show a documentary feel but I didn't believe that. Most of the situations seemed staged for the actors, though the ups and downs of the business is evident. I actually laughed at some of the scenarios and I don't think they intended them to be funny. This type of show should be either be completely fictional or a documentary, don't go and combine the two. It's hard on the audience to decide, if this is a story to enjoy or are we suppose to step in other people's shoes. Please I beg you make up your mind what we, as the audience, is suppose to do. This show makes me not want to be an actor, good thing I'm not planning to be. www.what-to-watch.com
Laura Rachel
½
I suppose my expectations were a lot higher for this, being that it's a Soderberg/Clooney collaboration. Pretty much anything they've done together (with the exception of Ocean's 12 and Ocean's 13, can that movie just not exist any longer?) has been nothing short of spectacular. The cast was... ehh... though, considering, they really were actors, who weren't really able to get work, before this, they really work in the roles. Also, Frank Langella as the acting professor is really great. I have to finish watching the rest of the series, but getting a television series for $3 is a steal, unless the tv series happens to be "Everybody Loves Raymond!", but that's another review altogether! If you have $3 and you see it at Big Lots, it's worth picking up.
Adam Vargas
[IMG]http://media.movieweb.com/dvd_art/full/19/61919.jpg[/IMG] OMG I love this show! It is so interesting and funny. Unscripted follows 3 struggling actors as they go through auditions, acting class and life. Krista Allen (Smallville, Anger Managment) is a single mother, ex-porn star trying to clean up her image but it haunts her where ever she goes. Bryan Greenberg (Prime, One Tree Hill) has been offered the job opportunity of a life time but will he mess it up and will it cause a rift between the group of friends? Jennifer Hall is the girl next door trying to make it in the buisness while taking care of her grandfather. I loved it. I got out Season 1 from the library because I remembered hearing that Bryan Greenberg is in it. I love him from One Tree Hill so I thought I'd give it a try and it was great. I highly recomend this look into the underbelly of the acting world.
Emily Bielewicz
Unscripted Quotes
There are no approved quotes yet for this movie.
Discussion Forum
Discuss Unscripted on our Movie forum!