The Unsinkable Molly Brown
(1964)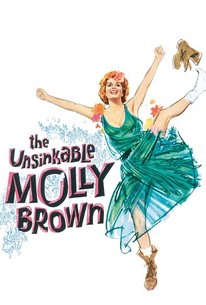 The Unsinkable Molly Brown Photos
Movie Info
Meredith Willson's second Broadway hit (the first and biggest was The Music Man) proved a lucrative vehicle for the equally unsinkable Debbie Reynolds. Based on a true story, the film casts Debbie as hoydenish Molly Brown, who wangles her way into Denver High Society when she marries "overnight millionaire" Johnny Brown (Harve Presnell). When the local social arbiters give Molly the brush-off, she pulls off a coup by bringing a representative of European royalty, Prince Louis de Laniere (Vassili Lambrinos) into the Colorado community. Her admiration for the prince causes a rift in her marriage; it takes the sinking of the Titanic--wherein Molly heroically commandeers one of the lifeboats and is responsible for rescuing several of the passengers--to bring Molly and Johnny together again. While the energetic performances of such songs as I Ain't Down Yet and Belly Up to the Bar Boys are to be cherished, the real highlight of The Unsinkable Molly Brown is a society ball which ends up in a pie fight between the Denver "elite" and Molly's rambunctious mining-town cronies. Treated condescendingly by the critics, the film struck a responsive chord with audiences to the tune of a $7.5 million gross.
Critic Reviews for The Unsinkable Molly Brown
Audience Reviews for The Unsinkable Molly Brown
Ironically the survival of Molly Brown from the sinking of the Titanic making her unsinkable gets downplayed to a large degree in this film. It doesn't matter. Debbie Reynolds is ideally matched with an equally large role.
John Ballantine
Super Reviewer
½
debbie is brash and gives her all
I saw this during the whole "Titanic" craze on TV one night.Pretty funny movie.
Mr. Canadagraphs
Super Reviewer
The Unsinkable Molly Brown Quotes
There are no approved quotes yet for this movie.