Unstable Fables: 3 Pigs & a Baby
(2007)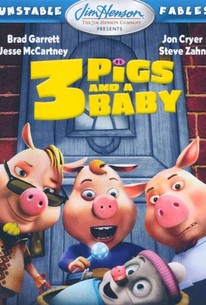 AUDIENCE SCORE
Critic Consensus: No consensus yet.
Unstable Fables: 3 Pigs & a Baby Videos
Unstable Fables: 3 Pigs & a Baby Photos
Movie Info
This decidedly different take on the fable of the Three Little Pigs pokes fun at the fairy tale with a wry sense of humor that both kids and adult will be able to appreciate. In this animated version, the big bad wolf sends a team of Special Ops agents to infiltrate the home of the pigs by leaving an irresistibly innocent baby wolf on their doorstep. The pigs raise him as their own, but when that canine tyke reaches his teens, in identity crisis ensues that might just let the wolves nefariously drawn out plan come to fruition.
Rating:
PG (adult situations/language)
Genre:
, ,
Directed By:
Written By:
On DVD:
Runtime:
Studio:
Weinstein Company
Audience Reviews for Unstable Fables: 3 Pigs & a Baby
I chose this figuring it would be good background noise while I took a nap, and for what it's worth, that's exactly what it was good for. If you're looking for something to actually keep yourself entertained, definitely take a pass on this one.
Amanda Hendsbee
You can't tell me anything. I won't listen I'll judge you. Shortly after the infamous big bad wolf house blowing incident, the three little pigs move into together. The coalition of wolves devise a master plan to deliver a baby wolf on the 3 pigs doorsteps, let them raise him, and manipulate the baby wolf as a teenager to flip on the pigs and serve them up for dinner. As the 3 pigs raise the boy, audiences observe the struggles of the youth to pick a direction. "You're the child raising expert. You change him!" Howard Baker, director of Unstable Fables: Tortoise and the Hare, Lego: The Adventures of Clutch Powers, Unstable Fables: The Goldilocks and the 3 Bears Show, Shark Bait, and episodes of Rugrats, Ren & Stimpy, and Aeon Flux, delivers Unstable Fables: 3 Pigs and a Baby. The storyline for this picture is fairly straightforward but told with unique characters and style. I did really like the animation. The voices were also well selected and include Jon Cryer, Jesse McCartney, Brad Garrett, Steve Zahn, and Tara Strong. "I'm Lucky." "You think so? Looked in the mirror lately?" We added this to our Netflix queue so my daughter and I could watch it together. We watched it yesterday morning and she really, really liked it. There were some clever lines for sure and some cool action scenes and use of the wolves. I did score this slightly better than average but it falls well short of the classics. "Why don't you have any furniture?" "Because I live alone." Grade: C+
Kevin Robbins
½
the CG isn't perfect, but with an great cast, and a good heartwarming story, this unstable fable is more stable than it says
Michael Edwards
Super Reviewer
Unstable Fables: 3 Pigs & a Baby Quotes
There are no approved quotes yet for this movie.