Unstrung Heroes
(1995)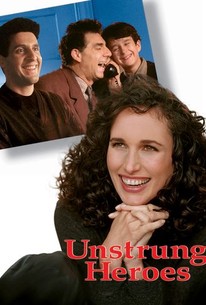 Movie Info
Diane Keaton made her directorial debut with this drama, adapted from the autobiographical novel of sportswriter Franz Lidz. Lidz's story was set in his New York childhood and told of how living with his four eccentric uncles helped him overcome his grief at the death of his beloved mother. The movie is set in southern California and the four uncles from the novel have been whittled down to two. Lidz was christened Steven (Nathan Watt) and he is raised by the luminous Selma (Andie McDowell) and Sid (John Turturro), his father. When Selma is taken ill, Sid keeps Steven and his sister out of her bedroom, fearing they will upset her. Sid is an ingenious but cool-hearted inventor whose head is more developed than his heart. He sends Steven off to live with his two brothers. Danny (Michael Richards) is a high-spirited, paranoid man who suffers from delusions. Arthur (Maury Chaykin) is a big-hearted guy who likes to collect other people's junk. Together they rename the child Franz and teach him to value his own uniqueness.
Rating:
PG
Genre:
,
Directed By:
Written By:
In Theaters:
On DVD:
Runtime:
Studio:
Hollywood Pictures
Critic Reviews for Unstrung Heroes
Audience Reviews for Unstrung Heroes
Keaton's directorial debut is not bad but not great. I think she suffers from the same problem as Tom Hanks..the need to show something to be loved rather than something edgy. The result is passable stuff but not memorable stuff.
John Ballantine
Super Reviewer
I didn't like this movie at first. It made me uncomfortable, in part because I expected something more along the lines of two of my favorite nineties films, "Wide Awake" and "Little Man Tate." Steven/Franz's father was a total jerk, to me, and the mental illness of the uncles didn't seem like it was actually going to be TREATED like illness. I felt very uncomfortable for Franz Lidz, feeling sorry that he had grown up in such an environment. The first half of this movie fooled me, however. Not everything in it was what it seemed. As it got closer and closer to the end, a rich mix of emotion bubbled up through the surface without becoming sticky, sickly, or melodramatic, and the conclusion made me tear up. I began to care about these characters like they were a quirky extension of my own family. The main idea I took from the whole thing is that Franz was a smart kid who could handle the less-than-pleasant side of the world, and seeing as how he wrote the memoir that inspired this nice little movie, it sure seems like he did. It's a shame that this movie is doomed to relative obscurity. It's definitely the kind of quirky-yet-grounded movie that doesn't get made anymore... at least, not this way.
Kim Broomall
½
(from The Watermark 09/30/95) UNSTRUNG HEROES a/k/a: The first directorial outing of Diane Keaton: MacDowell plays a mother who is stricken ill, and her son decides to go and live with his two strange uncles (Richards and Maury Chaykin) while she convalesces. In the process, the child finds his individuality in spite of his buffoonish father (Turturro). Keaton finds many beautifully touching moments in the sweet story - but to be honest, I fell asleep. It wasn't solely the movie's fault, I was tired. So sue me. Funny thing though - I don't really think I missed anything. What I saw seemed to have a complete story and seemed to be thematically sound. I'm not sure if the director's cut is as good, but I liked what I saw. Queer Quotient: No "family" to be found anywhere. After all, it's a nostalgic look back to the 1950's - you know, when there were no gay people.
David Almeida
Unstrung Heroes Quotes
| | |
| --- | --- |
| Uncle Arthur Lidz: | I think balls hold the sounds of the children who bounce them. |
| | |
| --- | --- |
| Selma Lidz: | Just pretend you're living with Dopey and Dopey. |
| | |
| --- | --- |
| Uncle Arthur Lidz: | People throw away a lot of things that are good. |
| | |
| --- | --- |
| Steven "Franz" Lidz: | It was Mom who told me a hero is anybody who finds his own way through this life. She told me this would be the year i'd find mine. |
| Steven "Franz" Lidz: | It was Mom who told me a hero is anybody who finds his own way through this life. She told me this would be the year I'd find mine. |