Uomini contro (Many Wars Ago)
(1970)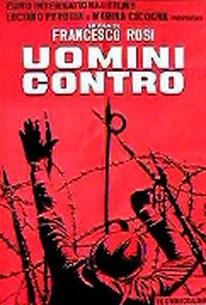 AUDIENCE SCORE
Critic Consensus: No consensus yet.
Movie Info
Italian army regulars resist the orders of a cruel general whose rigid interpretations of the rules call for a man to be shot. Leone (Alain Cuny) orders the execution of an army regular who halted the troops while under enemy fire. A sympathetic lieutenant substitutes a dead body for that of the doomed soldier because he believes the general has been wrong and the man acted normally. Another lieutenant is shot when he refuses to shoot men who have exited quickly from a foxhole under bombardment. This anti-war film illustrates the enemy is not the only force of evil on the battlefield and that war is inherently wrong for everyone involved. ~ Dan Pavlides, Rovi
Critic Reviews for Uomini contro (Many Wars Ago)
All Critics (1) | Fresh (1) | Rotten (0)
Rosi doesn't conflate courage or conviction with success... maybe he read a history book or two, and learned that sometimes the hero's journey just ends.
Audience Reviews for Uomini contro (Many Wars Ago)
½
In "Many Wars Ago", Lieutenant Sassu(Mark Frechette) is glad to be at the Austrian front in World War I where he can finally get some combat action. What he does get to see first is General Leone(Alain Cuny) leading his troops in retreat after losing Montpelier. After a scout encounters Austrian troops and calls a halt, Leone thanks him by ordering him shot. Luckily, some quick thinking saves his life. That might not be enough to save everybody else's lives, however, when he orders an attack to retake Montpelier the next day before the Austrian troops can get settled. If insanity, as some say, is doing something repeatedly while expecting different results, then Leone is most definitely mad in this compelling antiwar film. In fact, I can think of no more vile a military figure in cinematic history. Even his horse wants nothing more to do with him. No small part of this comes down to his stubborn refusal to adjust to the new realities of war first seen in World War I, as he employs armor and trumpets in combat. The Austrians are little different as they also try to employ the calvary in a disastrous attack. So while some of the junior officers and enlisted men consider new ideas like socialism, atheism might be a better way to go because there is no god under such circumstances, highlighted by a brilliant bit of black comedy. Note: The Brooklyn Academy of Music listed this movie under the title of "Just Another War."
Uomini contro (Many Wars Ago) Quotes
There are no approved quotes yet for this movie.