Up the Down Staircase
(1967)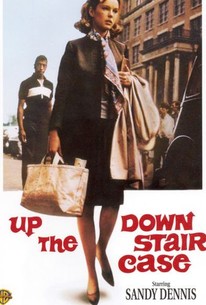 Up the Down Staircase Photos
Movie Info
Based on a novel by Bel Kaufman, this is the story of a new teacher in the New York public school system who wants to make a difference in her students' lives. Sandy Dennis' portrayal of the flighty, slightly mad young woman of Kaufman's book was excellent, but the frenetic energy of the book was not duplicated by the movie.
Critic Reviews for Up the Down Staircase
All Critics (5) | Top Critics (1) | Fresh (4) | Rotten (1)
Humorless version of Kaufman's novel doesn't show Mulligan's personal touch.
One of Hollywood's earnest efforts about highschool education, sort of a female version of Blackboard Jungle and To Sir With Love, with Sandy Dennis in the lead.
Audience Reviews for Up the Down Staircase
Well made, well acted drama of a young teacher's struggle to adapt to a tough inner city school. Some of the sheen has worn off the topicality of the issue since there have been many versions of it but this is a fine rendering of the tale. Sandy Dennis is perfectly cast in the lead.
Up the Down Staircase Quotes
There are no approved quotes yet for this movie.