Urban Justice (Renegade Justice)
(2007)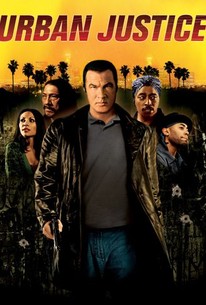 AUDIENCE SCORE
Critic Consensus: No consensus yet.
Urban Justice (Renegade Justice) Videos
Urban Justice (Renegade Justice) Photos
Movie Info
When an honest cop is senselessly gunned down on the means streets of a poverty-stricken city, his fearless father moves into the neighborhood on a deadly mission of vengeance in this gritty urban action thriller starring Steven Seagal and Eddie Griffin. Max Ballester was a good cop who made the unfortunate mistake of being in the wrong place at the wrong time. Now Max is dead, the victim of a senseless and seemingly random act of violence. When the murder goes unsolved and the police fail to single out a suspect, Max's father, former government special ops agent Simon Ballester (Seagal), decides to take the law into his own hands. After moving in to the very neighborhood where his son was recently gunned down, Simon embarks on a relentless mission to find his son's killer - constantly probing everyone who crosses his path and never hesitating to crack a skull or two when things get tough. Of course the local gangs don't take kindly to such bold inquiries, especially when they are being conducted by an ex-government agent. Fortunately Simon is more than capable of fending for himself in such dangerous situations, and as the local thugs come out to play he unleashes a fury the likes of which have never been seen even on these treacherous streets.
Rating:
R
Genre:
Directed By:
Written By:
In Theaters:
On DVD:
Runtime:
Studio:
Sony Pictures Home Entertainment
News & Interviews for Urban Justice (Renegade Justice)
Critic Reviews for Urban Justice (Renegade Justice)
All Critics (2) | Fresh (1) | Rotten (1) | DVD (1)
That Urban Justice eventually devolves into yet another tedious Steven Seagal actioner is particularly disappointing, as the movie boasts an opening half hour that essentially possesses the feel of an old-school Seagal effort.

A cut above the usual kick butt orthopedic surgeon's wet dream, with Steven Seagal looking dapper, mean and bulked up in leather.

Lethargically paced, direly dull, and "acted" with a deadening somnolence by Seagal.
Audience Reviews for Urban Justice (Renegade Justice)
½
"Urban Justice" closely follows the mathematics of making a Steven Seagal B-movie. Take a bland, generic and completely meaningless title and mix in a routine plot (a man with a secretive past searches for his son's killers) and add in universally boring bad guys (street gangs and crooked cops). That's this film in a nutshell, and it's not too far removed from the hits he made when the action star burst onto the scene only without the spark. The direction is sluggish, and what action there is here is listless and uninspired. The film even looks horrible. There is some great looking stock-footage of flying over Los Angeles at night, but unfortunately, this was filmed in a very unsightly Albuquerque and that ugly scenery does little to improve the film much. Seagal kills a bunch of gang-bangers even though he finds out they had little to do with the death of his son, and his martial arts skills are still pretty rusty. He opts for artillery over his fists here, and every single person killed is shot in slow motion and they all loose about a gallon of blood. Every kill reminded me of Gallagher smashing watermelons. Seagal is his usual boring self, but Eddie Griffen tries to liven things up in a rare serious role apparently trying to channel a gangster rapper. He's a bland villain, but he's still better than Kirk B.R. Woller playing the dirty detective. The filmmakers pull a major coupe getting Danny Trejo in a supporting role, but in keeping with the theme, they fail to do anything interesting with him. "Urban Justice" fails on almost every level. It's dull, unpleasant to look at and very boring.
Timothy Sanders
You've been to Compton? Vietnam ain't got shit on C.P.T, cuz. Simon Ballister's son is a police officer that was shot and killed in the line of duty. Simon flies into Los Angeles to initially attend the funeral and then assist the investigation to uncover the killer. He quickly discovers that the local police will be of little aid and he'll have to take matters into his own hands. "Did he have a little accident last night?" "How do you know about that?" "Because I caused the accident." Don FauntLeroy, director of Seven Days of Grace, Anaconda III, Lightspeed, and Anacondas: Trail of Tears, delivers Urban Justice. The storyline for this picture is fairly standard for the genre and delivered little new content outside of some intense and flashy action sequences. The acting was pretty standard for the genre and the cast includes Steven Seagal, Eddie Griffin, Carmen Serano, and Cory Hart. "Get your lively chubby ass off my hood." I am at my mother in-law's house and was looking for a film with an approximate 90 minute time and this gem grabbed my attention. I didn't expect much from this film and was pleasantly surprised by the worthwhile action scenes. The plot is basic but the action scenes are fun. This film isn't a complete waste of time and is worth watching for action genre fans. "You're a bad ass white boy, huh?!" Grade: C+
Kevin Robbins
From the many reviews I've read about Urban Justice being Steven Seagal's comeback film; I think not. I'm not doubting Seagal's talent as a bonafide bone-breaking animal, he just needs to ease back on his appearances in film. There's only so many times you can play the same character. The types he portrays seem to always be mixed up in some kind of vendetta. It's becoming over-played and honestly, just downright offensive. When his son, Officer Max Ballister (Cory Hart), is gunned down on the streets, Simon Ballister (Steven Seagal) comes out of the murky depths to find his gunmen. He leaves a trail of busted bodies which catches the attention of ESG gang leader Armand Tucker (Eddie Griffith), who sends more cannon fodder his way, hoping it will stop Ballister's own brand of interrogation. However, Ballister has more than local gangbangers after him which seems to come from every direction. Having Eddie Griffith play a gang leader is pretty weak, considering he brings no intimidating attributes to his character. He tries to present some humor into his role, even so much as adding a little Pacino-esque dialogue into his vocabulary. I see him only as a comedian and nothing more. Even then, mediocre at best. Danny Trejo makes a five minute appearance in the film as The Hyde Park gang leader El Chivo, rival's to Armand's ESG gang. He should of had some more scenes in, though. On top of Seagal's "same character" dilemma, it's blatantly obvious that he's having an asthma attack when he's rushing up and down the streets. Yes, he breaks fingers, hands, ribs; but he "huffs and puffs" between takes, it's hard to concentrate on his choreography. And to think, this film was going to have a theatrical release. I give the film one thing, though, the amount of bodies Seagal leaves in his wake. He accumulates a hefty amount with blood seeming to come out at all angles when the characters get shot (he even takes one as well). So in conclusion, why does Steven Seagal continue to go on as an actor? If this is the best he can come up with now, there's no need to keep putting out horrible releases.
Rob Cisneros
Urban Justice (Renegade Justice) Quotes
There are no approved quotes yet for this movie.