Utu
(1984)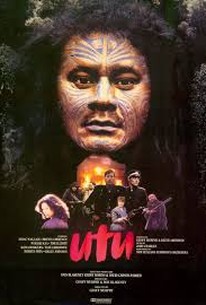 AUDIENCE SCORE
Critic Consensus: No consensus yet.
Movie Info
Utu is the Maori word for "Retribution," which sums up the chief motivating factor of this New Zealand-produced drama. Set in the 1870s, the film details the exigencies of British Colonial rule. A Maori scout, Te Wheke (Anzac Wallace), stumbles across a native village that has been destroyed in a British raid. Since it is the scout's own village, he deserts the British army, the better to seek "utu." Leading a vigilante force consisting of his fellow Maoris, Te Wheke kills as many British settlers as he can get his hands on. The feverish conviction of his crusade is in stark contrast to the attitudes of the British, who seem more concerned with material possessions than with human beings. Popular down under star Bruno Lawrence is cast as a vengeance-driven settler who makes it his personal mission in life to end Te Wheke's reign of terror. ~ Hal Erickson, Rovi
Rating:
R
Genre:
,
Directed By:
Written By:
In Theaters:
Runtime:
Studio:
Twentieth Century Fox Home Entertainment
Audience Reviews for Utu
A brilliant epic of British colonialism in New Zealand and Maori rebellion, "Utu" has been languishing in obscurity for the past 25 years, and it's a damn shame. Not only is it a history lesson, a badass revenge story, a study of clashing cultures, and a study of the destructive nature of vengeance, the film ultimately coalesces into a truthful definition of "honor" itself. It's apropos, seeing how the Maori term "Utu" is another way to say "ritualized revenge against an enemy tribe in the name of preserving familial honor". You gotta love the efficiency of their language. Despite clocking in at just under two hours, "Utu" has a mythical and lyrical sweep all its own (including an overture!). Maori officer Te Wheke is fighting with the British Colonialists to eradicate rebellious tribes. When he discovers his home village, a tribe sympathetic to the Brits, freshly massacred with ruined buildings still smoldering, he immediately blasts the nearest limey and cries out to the heavens in his native tongue, declaring his utu and a unilateral war against the "pakeha" (white man). Then he gets some incredible facial tattoos and we're off and running. Anzac Wallace, a nonactor, ex-con and former union leader, injects formidable energy into folk hero Te Wheke. A scene in a church, where he publicly declares his guerrilla war, is both grotesque and darkly comic, as Te Wheke is wearing his British-issue red coat and cap as well as boasting facial tats and holding a massive tomahawk; his inner duality is visualized as well as delivering his personal commentary on "pakeha savagery". He quickly becomes a Messianic figure with an army of his own, committing acts of destruction and chaos and inadvertedly becoming a mirror of the oppressive forces he rebels against. He becomes a target of his own, with Bruno Lawrence declaring his own utu of sorts as he descends into a unique sort of insanity (offset by the incredible weapon he invents). Te Wheke is reviled by all, least of all his own people, and in his repugnancy he achieves a purity of spirit. Tons of action, a fast pace, and even a love story of sorts (which may be the only stumbling block). There's even a hint of the old Kiplingesque jaunty adventures of yesteryear, with a young British officer whose left shoulder seems to be a bullet magnet. While there's no one we can completely root for, the kaleidoscopic viewpoints actually benefit the story instead of detracting from it. Te Wheke achieves the status of Instant Myth.
Kevin McCormick
½
Ahhh, sweet RT. How I miss thee sometimes. And then other times I grumble about there not being enough salsa for my chimichanga. Who eats that stuff like it's going out of style anyway? We needs it for our Mexican delicacies, dammit! *ahem* [center]******************************************[/center] [left]"So," the girl looked at me and applied some glitter lip gloss, "this...F-bomb...he's got the hots for me, eh? What does he look like?"[/left] [left]"Well...he'sh kind of like the way my father looked before he married my mother."[/left] [left]"How did your father look after he married your mother?" she raises her right eyebrow. She wants me. Damn it Ollerton, turn off the vibes man...this is F's gal.[/left] [left]"Well...after he married my mother he went inshane and became a female clown in the London schurcus. Maybe you've sheen him before? He doesh a wicked trick with a shoehorn, a dozshen ducklingsh, and a gallon of keroshene."[/left] [left]Her raised eyebrow turns to a look of confusion and disgust. I can't blame her. Using ducklings in that act of cruelty was something I never forgave my father for. Bastard. He should have used Labrador puppies.[/left] [left]"Is he the guy who comes in here and is always clearing his throat?"[/left] [left]"That shounds about right." Hee hee. Neck balls.[/left] [left]"Well, I'll tell you what Ollerton...your man sounds like a decent bloke. I'll agree to meet with him if you do one thing for me."[/left] [left]I rolled my eyes and began unzipping my pants. I could tell by the horrified expression on her face that something was amiss. I hurredly pulled myself back together and assured her that I was just airing myself out.[/left] [left]She shook her head and smiled, "Now Ollerton, if you'll just meet me in Carl's diner in fifteen minutes for lunch, we'll discuss where and when I can meet this friend of yours. Are we agreed?"[/left] [left]"Carl'sh? They love me there. You know what the besht dish on the menu ish?"[/left] [left]"What's that?"[/left] [left]"Their breaded oyshtersh. [i]Quite[/i] the a[size=2]phrodishiac...not that I've ever needed their help before."[/size][/left] [left][size=2]She flashed a grin that either said, "Oh you naughty boy, you" or "Actually I have a violent reaction to mollusks. Keeps me in the WC for hours on end." It's really hard to discern between grins. One time I mistook a gentleman's grin to mean, "I see what you mean Ollerton, but I'm afraid I still have to kill you" when he actually meant "Could you be so kind as to pass me the tartar sauce?" The owner of that restaurant wasn't too happy having to clean up a retired sumo wrestler's corpse. He should have known better: tartar sauce is a sacred thing.[/size][/left] [left][size=2]"I'll meet you there shortly missh...?"[/size][/left] [left][size=2]"Teback. My full name is Baby Gaw Teback."[/size][/left] [left][size=2]"Are you sherioush?!"[/size][/left] [left][size=2]"Naw. I just said that because you're an agent and I wanted to pretend like I'm in a Bond film with a dirty name...you know? My name's really Kris."[/size][/left] [left][size=2]"Damn."[/size][/left] [left][size=2]Disheartened only slightly by the normal name, I made my way to Carl's diner and got things ready. After a short phone call, all the preperations were made for a strictly professional lunch. Kris arrived, carrying with her a certain grace and beauty that only movie starletts and bearded women who have recently shaved posess. She looked at the table, flashed a short supernova flash of a smile, and sat down.[/size][/left] [left][size=2]"So this is a strictly professional lunch, eh?"[/size][/left] [left][size=2]"Yesh. What makes you think otherwishe?"[/size][/left] [left][size=2]"Well...what's up with the string quartet?"[/size][/left] [left][size=2]"Oh...they're jusht guysh from the agency."[/size][/left] [left][size=2]"The flowers?"[/size][/left] [left][size=2]"Er...they came with the table?"[/size][/left] [left][size=2]"The candellabra?"[/size][/left] [left][size=2]"I'm jewish."[/size][/left] [left][size=2]"The guy painting our portrait?"[/size][/left] [left][size=2]"I shwear, he comesh here all the time. He alwaysh triesh to eat my fisheshesheshesh 'n chipsh."[/size][/left] [left][size=2]"And the man giving me a pedicure?"[/size][/left] [left][size=2]"My coushin. He'sh in shervitude right now for shtealing a mango from me five yearsh ago. Don't make eye contact with him."[/size][/left] [left][size=2]"Well...It'd be interesting to see what you have in store for girls you're dating."[/size][/left] [left][size=2]She made a face at the sound of me unzipping my pants again. I quickly recovered by telling the quartet to play their version of Nine Inch Nails "Closer".[/size][/left] [center][size=2]*****************************************[/size][/center] [left][size=2][color=orange]Ollie's Deep Thought for the Day:[/color][/size][/left] [left][size=2][color=#ffa500]When in Doubt, look around for a Starbuck's...because, hey, they're everywhere.[/color][/size][/left] [left][size=2][color=red]~Ollie[/color][/left] [/size]
Ollie Ollerton
Utu Quotes
There are no approved quotes yet for this movie.