Uzumaki
(2002)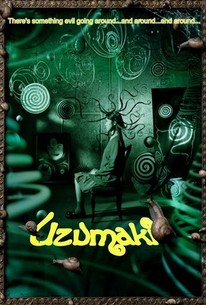 TOMATOMETER
AUDIENCE SCORE
Critic Consensus: Uzumaki uses its creepy, David Lynch-inspired atmospherics to effectively build a sense of dread, but ultimately fails to do anything with it.
Movie Info
Based on the phenomenally popular horror manga by Junji Ito, Uzumaki is the debut feature of Japanese music video director Higuchinsky (born Akirhiro Higuchi). Something strange is going on in the small town of Kurozu-cho. Kirie Goshima (Ericko Hatsune) notices Toshio Saito (popular character actor Ren Osugi), the father of her longtime friend, Shuichi (Fhi Fan), videotaping an extreme close-up of the spiral pattern on a snail's shell. Shuichi explains that his father is acting strangely, and impulsively asks Kirie to elope with him. She shyly demurs. Later, Toshio asks Kirie's father, a potter, to make him a plate with an uzumaki, or spiral, pattern. Shuichi and his mother, Yukie (Keiko Takahashi), are increasingly alarmed by Toshio's obsession with all things spiral. When Shuichi throws away his father's collection of spiral objects, Toshio is unconcerned. "The idea's enough," he tells his family, "One brings forth one's own uzumaki." He then proceeds to do just that, in bizarre and disturbing ways. At school, Kirie sees a boy gleefully hurl himself to his death at the bottom of a spiral staircase. Another boy shows up to class late, moving suspiciously slowly, and covered in slime. A popular girl, Kyoko (Hinako Saeki), curls her hair into Medusa-like spiral patterns that eventually engulf the entire hallway. As the town slips deeper into madness, a reporter, Ichiro Tamura (Masami Horiuchi), shows up to help Kirie and Shuichi search for the reason, which seems connected to a strange occurrence years ago at nearby Dragonfly Pond. Uzumaki is not to be confused with Joji Iida's Rasen, the sequel to Ringu, which also featured Saeki. ~ Josh Ralske, Rovi
Critic Reviews for Uzumaki
Audience Reviews for Uzumaki
I'm struggling to think of something positive to say about this movie, but nothing is coming to mind. Just didn't enjoy it at all, and it's probably one of the worst Asian horror movies I've seen.
Lovecraftian concept by way of some Fulci and japanese esoteria thrown in the mix. The entity here is not a monster, or a serial killer, but a "concept" eating an entire town, slowly, little by little. It has it's flaws for sure, but i liked, and found it out far more effective than dozens of so called "horror" flicks made in the last years. It's more disturbing than scary, and as a doomsday story it works very well, how do you stop spirals? You can't, you could stop a virus, polution or zombies, but spirals? Good luck with that.
Tsubaki Sanjuro
Super Reviewer
½
Weird but original Japanese horror about a cursed town whose inhabitants slowly become infactuated with spiral shaped objects leading them to their deaths. Not too bad overall. Has a few grisly deaths but nothing gory. An eerie atmosphere is present throughout, it's not scary though but there are a couple of creepy moments that'll catch you off guard if you notice them.
Uzumaki Quotes
There are no approved quotes yet for this movie.